Summer 2018 : Workshop : Choosing and Developing Your Style: Al Gury
Relying on his vast experience as a professor of art, author of three art books, and popular lecturer, Al Gury will explain what you can learn from a wide variety of contemporary and historic artists. He will define how these influential artists approached landscape, still life, portraits and the figure. In the process, you will gain useful tips for improving your work, as well as a wider understanding of how your paintings relate to those created by other artists. www.algury.com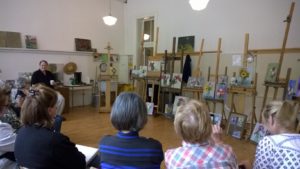 Summer 2018 : Workshop : Landscape, Its History and Methods: Al Gury
A workshop designed to strengthen your landscape painting skills and methods, including a comprehensive look at the history of landscape painting and how it has evolved in a variety of media. The first morning session will include a Power Point presentation and descriptions of the methods, color palettes, materials, and aesthetics dominant in the history of European and American landscape painting. Four major types of landscape painting will be demonstrated over the two days: Renaissance glazing, Alla Prima (Plein Air) landscape, Impressionist approaches, and Modernist/Fauvist approaches. The afternoon session and second day will focus on hands-on landscape painting based on styles of the student's choice. Reproductions of landscapes will be provided for the hands on experience. All work will be done in the studio. Open to all media (oil, acrylic, pastel, watercolor) and levels of experience. A materials list will be provided. www.algury.com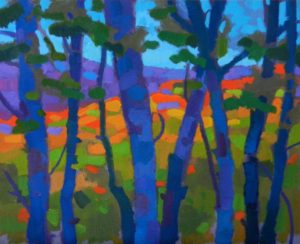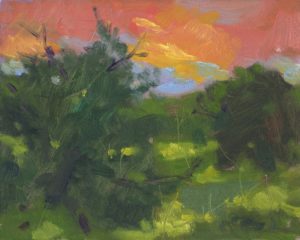 Summer 2018 : Workshop : Draw without Fear: JAMES DEAN ERICKSON
Learning to draw can be fun and rewarding, but it can also be intimidating for students who harshly judge their drawings against a posed model or an arranged object. James Erickson invites you to join a relaxed, non-intimidating, incremental learning class that will help you acquire and improve your skills. He will show you how to overcome the most common stumbling blocks of drawing and use basic elements and tools to record your observations. You are almost certain to wind up with drawings that more accurately and more freely capture what you see and feel about the subjects of your artwork. A materials list will be provided. www.jamesdeanerickson.com
World-renowned writer and illustrator Beatrix Potter, who was best known for her series of children's books such as The Tale of Peter Rabbit once said:  "I cannot rest, I must draw, however poor the result, and when I have a bad time come over me it is a stronger desire than ever." While learning to draw is not a skill that is acquired overnight, there really is no age limit to attaining new artistic skills.  In truth, it is never too late to start drawing. A long as you have the passion and willingness to learn, nothing is ever completely outside your reach…. Read more of this blog post by Lucy Wyndham. 
Summer 2018 : Workshop : Jewelry Making and Metalsmithing Techniques: Sarah Lock
Instruction will focus on the concepts and skills required to design and work in metals. Techniques covered include hard soldering with a t
orch, simple chain making, metal forming, sawing, cutting, chasing, stamping, and finishing. With the instructor's guidance, students will use jeweler's saws, pliers, hammers, stakes, files, and polishing wheels, to create wearable sculpture (jewelry items), or small free-standing compositions. All tools and materials are provided, including brass and copper sheet wire. Silver and semi-precious stones will be available for purchase at cost. Students may bring their own stones or other materials to use in their designs. www.oasisfineartsandcrafts.org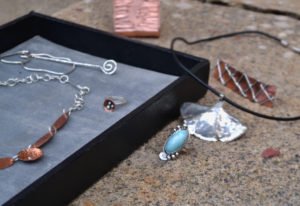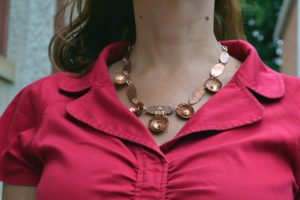 Summer 2018 : Workshop : Chromatic Perspective & Mixology: Aaron Thompson
This still-life painting workshop will offer you both theoretical and practical ways to apply and control color. Aaron will help you reduce a motif to flat, accurate shapes so it will be easier to discuss various principles of color such as temperature, chroma, and chromatic perspective. Designing still-life setups and identifying possible "found" motifs will be part of the discussion. Oil paint is the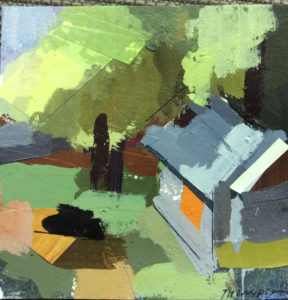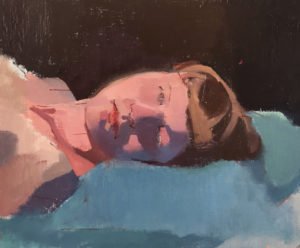 suggested medium but open to acrylic. A materials list will be provided. www.aaronmthompson.squarespace.com
Summer 2018 : Workshop : Painterly Application of Color: Aaron Thompson
During this lively, in-depth discussion of color, Aaron will talk about a range of ideas and techniques from color mixing in the studio to conceptual formulations of color within finished works of art. He will offer helpful advice and insights into color grouping, chromatic vs. tonal arrangement, and chromatic perspective. The discussion will be supported byan extensive slide catalog of paintings.  www.aaronmthompson.squarespace.com
Summer 2018 : Class : Plein Air Painting in Watercolor: Peg Sheridan
Join Peg Sheridan as she visits several beautiful locations to show you ways of directly capturing that beauty in watercolor. You will meet outside at a predetermined location each week or in the studio during inclement weather. Peg will offer critiques and one-on-one help, and she will show you how to distill complicated scenes into connected shapes and values, as well as specific methods of plein air painting. Those methods include: starting wet-in-wet, painting shadows first, painting loosely, and adding line for detail. Peg will also help you sharpen your observation skills to better see reflected color. A materials list will be provided. www.pegsheridan.com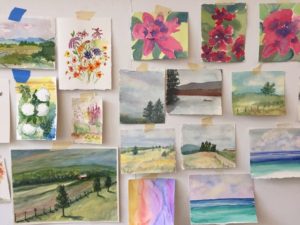 Summer 2018 : Class : Better Still Life Paintings: Elizabeth Geiger
"This class examines the various aspects of making a good still life painting: studying examples from art history, setting up a still life, drawing, classical vs. baroque ideas of composition and painting," says Elizabeth Geiger, one of the most popular teachers at BSSS. "Students will learn how to do preliminary drawings and tonal studies from my demonstrations, and they will paint set ups from my personal collection of still life objects." Elizabeth will also share her most recent work and talk about her new emphasis on the relationship of shapes. www.elizabethgeigerart.com
Summer 2018 : Workshop : Sketching Staunton: John A. Hancock
Sketching is a powerful tool to help you tune in to the beauty around you … the building on the corner with the cracked and missing bricks, the lone person sitting in the bus shelter, the trees changing color in the park. When you take the time to observe these things with a sketcher's eye, you will find yourself more connected to them. John will teach simple but powerful drawing techniques, show you how to make "thumbnail" sketches to quickly record your observations, and work on more finished sketches. John will focus on observation and freedom of expression over perfection; and he will help you overcome any fear you might have of the blank page. A materials list will be provided. Open to all media. www.JohnAHancock.com.
Instructor work pictured to right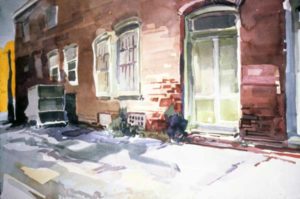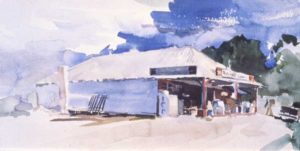 Summer 2018 : Class : Art Immersion: Elizabeth Geiger & Philip Geiger
This program is intended for adults with some art experience who want to invigorate their painting and drawing skills and gain confidence behind the easel. You will receive instruction in drawing and painting from both Philip and Elizabeth Geiger with the goal of offering you a rigorous review of foundational aspects of two-dimensional art making. Final Friday critique with Philip and Elizabeth Geiger. A materials list will be provided. www.paintingperceptions.com/philip-geiger and www.elizabethgeigerart.com
Class Schedule (subject to slight changes to account for weather and student needs)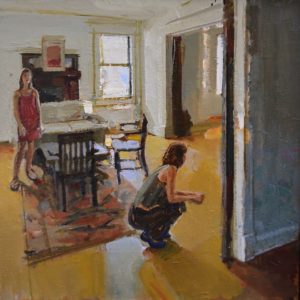 Monday: 9am-12 pm: Still life drawing and tonal painting, Elizabeth Geiger
1-4 pm: Figure drawing, Philip Geiger
Tuesday:
9am-12 pm: Still life painting with color, Elizabeth Geiger
1-4 pm: Landscape lecture and copy, Elizabeth Geiger
Wednesday:
9am-12pm: Plein air painting on site, Elizabeth Geiger
1-4 pm: Figure drawing, Philip Geiger
Thursday:
9am-4 pm: Landscape Painting, Elizabeth Geiger
Friday: 9am-12 pm: Critiques & Finishing Work in Studio, Philip and Elizabeth Geiger
Summer 2018 : Workshop : Charismatic Animals in Watercolor: Peg Sheridan
Get ready to have fun painting animals you love, such as elephants, giraffes, wolves, lions, bears, etc. You will choose the animal and Peg will show you how to use your reference materials to create a large, loose, splashy watercolor painting that captures its personality. Peg will lead you through demonstrations on drawing the animal, painting fur, etc, and creating a painting full of spirit and color. She will also offer critiques and one-on-one help. A materials list will be provided. www.pegsheridan.com.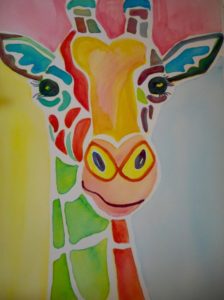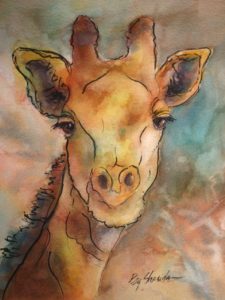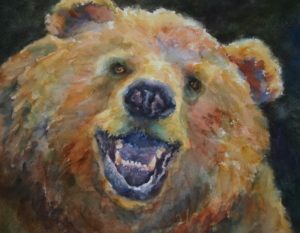 Instructor and student work pictured to right. 
Summer 2018 : Workshop : Hand Built Vessel Forms: Janly Jaggard
During this intensive three-day workshop, you will focus on hand building clay forms and adding surface texture, and complete a piece by the end of the workshop. You will first develop designs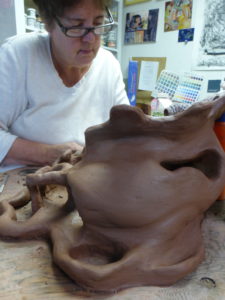 on paper to fine tune the details of form, then learn two techniques for building form: coiling and slab building. As your work develops, you will concentrate on various options for surface decoration using slip decorations, added or subtractive surface details, or incised work prior to bisque firing. A glaze day will follow and will be chosen to accommodate participant and instructor schedules.  www.janlyjaggard.com
Summer 2018 : Workshop : One-on-One: The Art of the Monotype: Frank Hobbs
Combine the directness of painting with the transformational process of printmaking and you get the art of the monotype. Monotypes are one-of-a-kind prints made by painting on a rigid surface and transferring the paint or ink to paper. The medium was prized by Degas and many others for its rich textures and evocative effects. This three-day workshop will introduce a variety of materials, tools, and processes that will enable participants to begin creating their own one-of-a-kind, original prints. Beginners to monotype printmaking are welcome but basic drawing or painting experience will be helpful. www.frank-hobbsart.com.
Spring 2018 : Class : Evening Oil and Acrylic Painting for Beginners : Elizabeth Geiger
If you are new to oil or acrylic painting or want a refresher for your studio practice, come and join us as we tackle basic issues of painting such as tone, composition and color. We will begin by working in black and white to get a handle on the tonal structure of our subjects and continue with paintings in a limited palette of colors. The rest of the class will be spent working on paintings from a large still life set up. Students will gain skills, build confidence and have fun. www.elizabethgeigerart.com
Spring 2018 : Workshop : Give Life and Energy to Floral Watercolor: Paige Smith-Wyatt
Learn more about using the unique qualities of transparent watercolors to paint flowers so the depictions have a greater sense of light and life. Paige will show you how to use photographic references by demonstrating and working with you one-on-one. Concepts of art and design will be discussed, and Paige will encourage you to follow your own unique path to completing paintings, with the goal of instilling enthusiasm and confidence.
Spring 2018 : Workshop : Watercolor Meditations: Paige Smith-Wyatt
Watercolor is the perfect painting medium to help you maintain a healthy well-being and balance. It flows freely, mingles colors together, and becomes your partner in a creative exploration. Paige will teach you how to use watercolor painting for self-care and well-being. She will also help you find ways to relieve stress and prevent burn-out, and Paige will reveal how she used watercolor for meditation in small watercolor doodles and large completed works of art. Through demonstrations and hands-on practice with the techniques presented, you will learn how to use watercolor as meditation and ways to incorporate this into your daily life. No prior experience with watercolor painting required. www.pswyatt.com
Spring 2018 : Workshop : Developing Figurative Compositions: LINCOLN PERRY
Gain insight into the process of drawing and painting posed models and then using those studies to develop studio paintings. Lincoln is one of the most distinguished painters in the country today and he recently moved to Staunton! This is his first workshop at BSSS during which he will share his experiences and perceptions. Don't miss this special opportunity! www.lincolnperry.com
Spring 2018 : Workshop : Color and Paint Application: Nancy Tankersley
Understanding color is easier than you think when you use a limited palette and learn to mix your color properly. Paint application involves more than putting paint on your brush and scrubbing it into the canvas. Nancy will show you many ways to get the effect you want by making smart color choices, broadening your range of color combinations, controlling your paint application, and "sculpting" your paint surface with brushes and other tools. Workshop open to oil and acrylic painters.
Spring 2018 : Workshop : Experimenting With Cold Wax Medium: Priscilla Long Whitlock
Would you like to explore a new method to expand your oil painting vocabulary? Cold wax has been used for centuries and easily mixes with oils. The combination can be layered on a prepared hard surface, added, scraped off, reduced, scratched and layered again as the painting undergoes visual changes with each layer. Priscilla will introduce you to all of the materials and guide you through the process. Your paintings can either be purely nonobjective or derived from natural imagery, and you will likely complete one or two small paintings. www.priscillalongwhitlock.com
Spring 2018 : Workshop : Clarifying the Stages of Figure Painting: DARREN KINGSLEY
Capturing the likeness, gesture, anatomy, and personality of a live model can be a great challenge, but Darren Kingsley will take you through the stages of figure painting he learned from several masters, including Nelson Shanks and the instructors of Atelier Lack. You will study the figure in ways which will allow you to translate a three–dimensional reality into a two–dimensional painting that conveys the fullest possible sculptural form. You will focus on painting the figure with a complete range of values and develop the ability to make accurate, relative value calibrations. You will execute all the concepts Darren explains through an application of opaque and semi-opaque oil paint in the light and shadow areas. This workshop is a special opportunity for artists interested in figure and portrait painting. www.darrenkingsley.com
1
2
3
11
16
Next ›
Last »