Paint Staunton Day Juror – Fred Nichols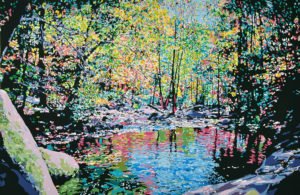 BY Fred Nichols
Fred received his MFA at the Pratt Institute, Brooklyn, New York in 1973, his BA from the University of Virginia, Charlottesville and studied at the Ecoles Des Beaux Arts, Fontainebleau, France. For more information about Fred and the Nichols Gallery, please visit www.frednichols.com.
QCPA Festival Juror – Nancy Tankersley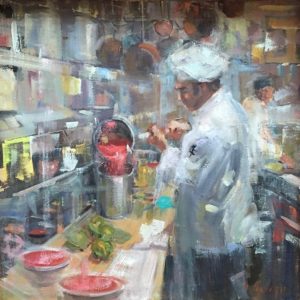 BY Nancy Tankersley
Despite a lifetime of moving around the United States as part of a military family, Tankersley has always regarded the coastal areas of Maryland and Virginia as her spiritual home. For the last 14 years she has made her home in Easton, Maryland. She likes to paint all subjects including figures and portraits, landscapes and still life.
Nancy has had many awards in her career and has been juried into international competitions such as the annual Salon International, the American Impressionist Society Annual Exhibit, and Oil Painters of America. In 2004, her painting "The Pink Scarf" was chosen as one of twelve to represent the 3000 member Art League of Alexandria, Virginia during their 50 Year Anniversary Gala celebration. In 2008, she was honored to be selected as one of two painters from the Eastern Shore to be part of a show titled "Making Art: Explorations in Process" at the Academy Art Museum in Easton, Maryland which included notable American artists from the 19th and 20th centuries and works borrowed from major museums including the National Gallery of Art and the Brandywine River Museum. Nancy was honored in 2016 and 2017 by the Salmagundi Club in New York City by being chosen to show her work in the American Masters Exhibit which is held every October and showcases work by nationally recognized realist painters. She is a Signature Member of the American Impressionist Society and the Mid-Atlantic Plein Air Painters and a juried member of the 100-year old Washington Society of Landscape Painters, the Salmagundi Club in New York City, and the Oil Painters of America. One of the founders of Plein Air Easton, and a chief organizer for the first three years, Tankersley participates as an artist in numerous national level plein air competitions. In 2017 she won Best in Show at the Lighthouse Plein Air Festival in Tequesta, Florida. She has served as Juror for regional and national competitions and in 2013 was the October-November judge for the Plein Air Salon, a national competition sponsored by Plein Air Magazine. In August 2014, she was a featured artist in Plein Air Magazine. Most recently Nancy was recognized as a Plein Air Master by M. Stephen Doherty (Editor of Plein Air Magazine) in his 2017 book "The Art of Plein Air Painting: An Essential Guide to Materials, Concepts and Techniques for Painting Outdoors." A founder of the Easton Studio, a workshop facility that hosts workshops given by top painters from all over the country, Tankersley credits her current level of professionalism to knowledge she gained in workshops. In addition to seeking out and hosting a wide variety of instructors, Tankersley also teaches clinics and workshops several times each year at the Easton Studio and elsewhere in the US and abroad.
"I think it is important for contemporary artists to capture the land and the people as they are today. I do not try to romanticize or invent my subjects, but I do try to show the beauty of the ordinary. People engaged in their occupations, enjoying their leisure time by eating, shopping or just strolling down a streets, as well as abandoned and often overlooked landscapes… all of these are ordinary subjects which can make extraordinary paintings. I try to paint from life as much as possible so that my work has the authenticity that comes from capturing a moment in time."
www.nancytankersley.com