RETURNING APRIL 14-19, 2020!  
With much community involvement and support, Beverley Street Studio School is proud to announce the third Biennial Queen City Plein Air Festival. This event helps fulfill the BSSS mission to expose our community to the world of visual arts and enhances the rich artistic and cultural fabric of Staunton. It is an additional jewel in our Queen City's crown.
artwork by John Hancock
This year the Festival continues to grow and expand in many exciting ways.  In its first two years of the Festival, founders of the event hand selected artists and sent invitations for participation.  This year, all of that changed and the application process was opened up to the public through Online Juried Shows.  Professional plein air  (French for "in the open air") painters from 6 unique states one participant from the Netherlands will compose the roster of 27 artists who will be staying in Staunton for five days of painting, demonstrations, shows, sales, and artistic expression!
This year there are also many added events and ways for the community to become engaged with the artists and the Festival as a whole.  To check out the entire timeline of events, click HERE.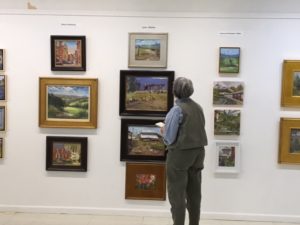 Returning this year on Friday April 17 is the fifth annual Paint Staunton Quick Draw Art Competition and Fresh Paint Show & Sale. This family friendly community art event is open to the general public, but registration is required to participate.  Awards will be presented for those in professional, amateur and 16 and under categories; all mediums and skill sets are invited to participate, and the Quick Draw Competition ends with a Fresh Paint Show & Sale at Sunspots Studios.  For more information on Paint Staunton Day, click HERE
.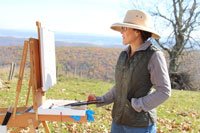 The Festival culminates Saturday evening with a Wet Paint Gallery Sale in the BSSS Gallery after the conclusion of the Garden Club Tour. Other Festival events include artist demonstrations, art walks, preview parties, and workshops from participating Artist Shawn Dell Joyce and Paint Staunton Day juror George Van Hook.
Community Partners provide vital support to the QCPA Festival by sharing their resources through contributions such as painting and lecture locations and cross promotion opportunities. Please stay tuned to see the community come together to support the arts in Staunton & Augusta County.