This year, there are 27 total participating artists from 7 unique states (CA, DE, FL, MD, NY, PA &VA) and one international participant from the Netherlands! Scroll down to see each artist's work and a short bio!
Jenny Abrams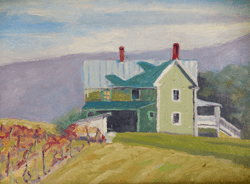 BY Jenny Abrams
Jenny Abrams has had a life-long love of art, with a passion for color and the natural beauty of Virginia. Her painting took on a more serious focus after furthering her skills at the Beverley Street Studio School, studying with instructors such as BSSS co-founder Ron Boehmer and Audrey Watson. Currently, Jenny's time is focused on plein air works, often painting with a group of like-minded artists who meet regularly in and around Charlottesville, Staunton, and Lexington, Virginia. Jenny has participated in local shows and events, including the Bath County Art Show from 2010-2017, winning awards in 2014 and 2015. She considers herself a lifelong student and enjoys working alongside fellow artists to further her artistic interpretation of the landscape and environment.
Barbara Albert
Photo and bio coming soon!
Bruno Baran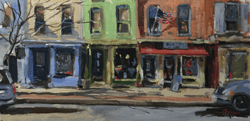 BY Bruno Baran
Bruno Baran is an accomplished educator and artist residing in Perry Hall, Maryland. A deep love for Renaissance art and an avid admiration of Leonardo DaVinci have forged the principles by which Bruno has pursued his career. A cum laude graduate from the Maryland Institute College of Art, Bruno began instruction in art for the Baltimore County Public School system in 1976. During his tenure as educator, Bruno rose quickly to prominence, often times leading the art department and establishing new curriculum aimed at challenging future artists. His leadership within various art departments has been recognized through numerous requests for consultation on curriculum development. Always the Renaissance man, Bruno has embraced technology while remaining moored to the past. He has taught courses on an array of subjects from traditional painting, ceramics, photography, digital imaging, to computer rendered animation. Bruno was the former Chairman of Fine arts and instructor at John Carroll High School. As an artist, Bruno's true love is the production of oil paintings. His additional pursuits include the operation of his studio art business, Studio di Lupo Bianco, volunteer art restoration, and providing assistance to other artists. www.brunobaranfineart.com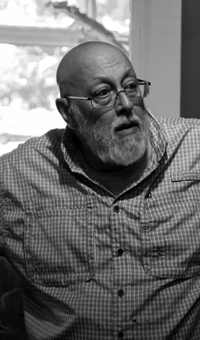 Beth Bathe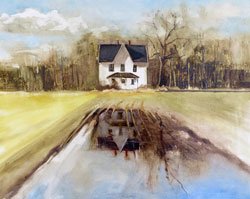 BY Beth Bathe
Beth Bathe is an artist currently residing in Lancaster, Pennsylvania. After a long career as a graphic designer, Beth now pursues painting full time. Primarily painting in oil en plein air since 2013, she participates in high profile festivals from Maine to Washington State, including Plein Air Easton; Door County, Wisconsin; and Richmond, Virginia for the past three years, and ten other competitions in 2017 alone. Beth has won numerous awards including Judge's Choice at Easton. She paints with water soluble oils in thin washes in a very limited color palette. Beth also uses unconventional tools such as squeegees and cotton swabs along with her paintbrushes, creating a very unique style. Her subject matter includes finding beauty in buildings that are often beyond their prime; they might be abandoned, or derelict, or soon to be part of the vanishing landscape. www.bethbathe.com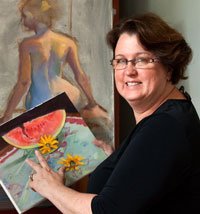 Deliece Blanchard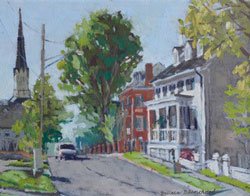 BY Deliece Blanchard
Deliece Blanchard's plein air landscape paintings are characterized by color and an expressive brush stroke. She has won several prizes in juried shows around Virginia and her work can be found in corporate collections and in the art collection of Randolph College in Lynchburg. Two fellowships at the Virginia Center for the Creative Arts gave her the opportunity to translate small outdoor sketches into large works, which were exhibited in a solo show at the Lynchburg Academy Center of the Arts in December 2017. Deliece has an MA in Music from the University of Virginia, where she concentrated in cello performance, and a BA in Biology, also from UVA. She recently retired from a 24-year career teaching strings in the Lynchburg City Schools. She is married, has two grown children, and serves as a docent at Randolph College's Maier Museum of Art. Her work can be found at the Riverviews Artists' Co-op Gallery in Lynchburg and Lindor Arts in Roanoke. www.delieceblanchard.com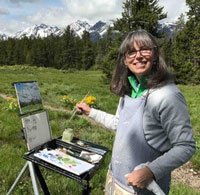 Ron Boehmer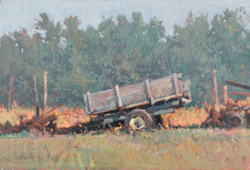 BY Ron Boehmer
Ron Boehmer is a co-founder of Beverley Street Studio School and teaches drawing and painting classes and workshops, specializing in plein air painting. In addition to BSSS, he teaches painting workshops in Connecticut at the Wethersfield Academy in Hartford, and in Massachusetts at the Springfield Museum of Art. Since coming to Virginia, he has taught art history and studio courses for Central Virginia Community College, Lynchburg College, Hollins College, The Lynchburg Fine Arts Center, and the Virginia School of the Arts. Ron's work is widely exhibited and collected. He has been recipient of over 46 awards in painting and drawing in regional and national juried exhibitions, including more than 18 "Best in Show" awards. Ron holds an MFA degree from the University of Pennsylvania and a BFA from The Maryland Institute College of Art. http://www.frednichols.com/annex/artists/ronboehmer/index.html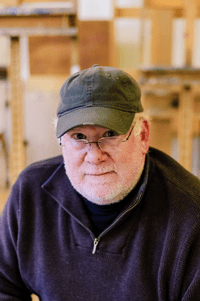 Coakley Brown
Photo and bio coming soon!
Sylvia Dahlgren
Photo and bio coming soon!
Shawn Dell Joyce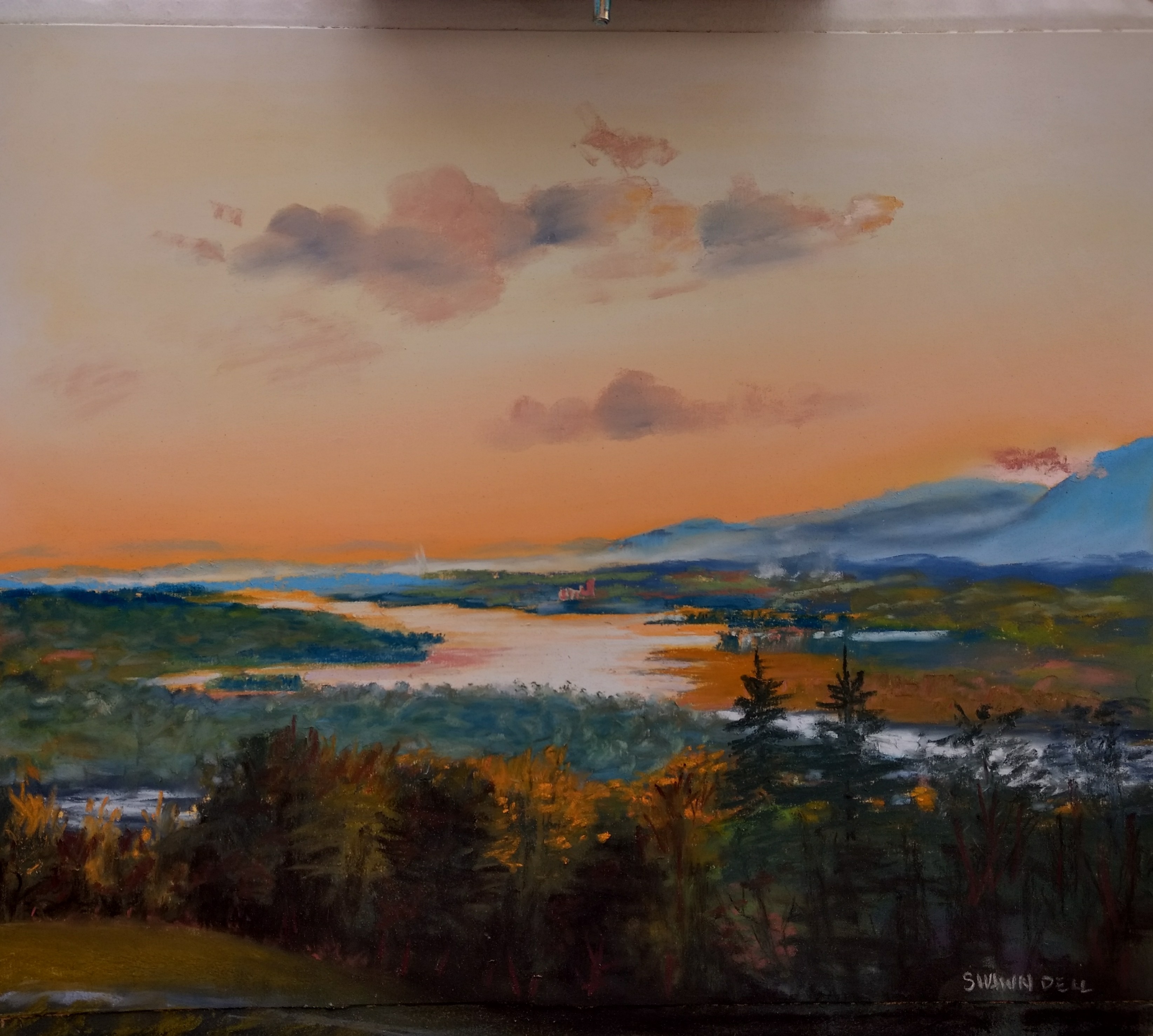 BY Shawn Dell Joyce
Shawn Dell Joyce began her career as an artist's apprentice in NY's SoHo area in the 1980's and worked in the studios of many prestigious artists. Her entrepreneurial spirit called her North to the Hudson Valley, where she began teaching a series of plein air painting classes in 2000. Her classes became so popular that she hired other artists and founded a plein air school with an Arts and Agricultural mission based on the historic Hudson River School.  Almost twenty years later, this nonprofit school, the Wallkill River School of Art, has grown considerably and Shawn continues to serve as Executive Director there. Shawn has won many prestigious awards including First in the Quick Draw at the 2017 Hudson Valley Plein Air Festival, and People's Choice in the International Plein Air Paint Out 2005 in Niagara Falls. She is a signature member of New York Plein Air Painters (NYPAP) and International Plein Air Painters (IPAP) and has been featured in many national newspapers and magazines including the New York Times and Plein Air Magazine. Shawn has participated in many national exhibits and plein air festivals and is represented by galleries in NY and Florida. She teaches workshops in pastel and plein air techniques across the country. Her work is included in collections in the Georges Pompidou Museum in France and the Museum of Modern Art in NY. http://www.shawndelljoyce.com/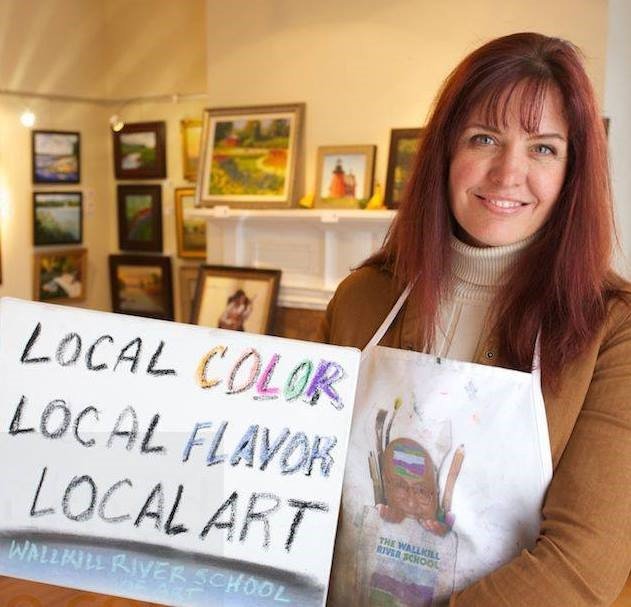 M. Stephen Doherty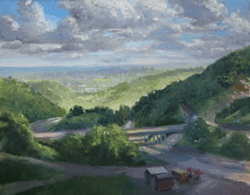 BY M. Stephen Doherty
M. Stephen Doherty earned a Master of Fine Arts degree from Cornell University; taught art in public schools, colleges, and workshops; worked for an art-materials manufacturer; served as editor-in-chief of American Artist magazine for 31 years; and is now editor of PleinAir magazine (www.outdoorpainter.com). He exhibited his paintings in solo and group exhibitions; served on the advisory boards of art schools and artists' organizations; judged art exhibitions for museums and art societies, and has written a dozen art books and hundreds of magazine articles. His most recent book entitled "The Art of Plein Air Painting: An Essential Guide to Materials, Concepts, and Techniques for Painting Outdoors" was published in 2017. He and his wife, Sara, moved to Waynesboro, VA in December, 2012, and both have been thoroughly enjoying the local community of artists and art enthusiasts. www.stevedohertyart.com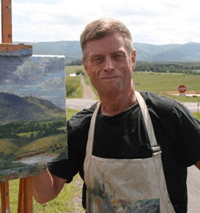 Vlad Duchev
Vlad Duchev was born in1965 in a small town in Ukraine. Growing up he was impressed by the art of Russian-Ukrainian impressionist. At the age of 8, he entered the art school in a small town of Bila-Tserkov and started his journey as an artist with the goal to enter the Art Academy of Ukraine. At the age of 14, being under the pressure from his musical family, he decided to take a musical path. He studied at Music College of Zhytomyr, Music Academy of Kharkiv, and National Conservatory of Ukraine in Kyiv with major in classical performance – double bass. But at the same time, he continued studying painting. In1994 due to the unstable situation in Ukraine he decided to move his family to the United States. In 2015 after the sudden death of his beloved brother and after almost 20 years not holding the brushes he decided to return to his passion for painting. He dived-in to the studies and set the rule of painting daily. He studied and continues to study with Matt Smith, Scott Christensen, Anne Blair Brown, Kathryn Stats, and his friend Zufar Bikbov.
Artist Statement: I love painting different kinds of subjects, but the landscape is my first and greatest love. Instead of glorifying the creation, I concentrate on glorifying the Creator by just simply rendering His creation. I love the moments when I'm one-on-one with my Creator right before the brush touches the canvas. This is the most precious time for me. The rest is just the technics that you learn by painting daily. My process of painting is very simple – I will only start painting if I can see a complete painting in my mind with all the steps from start to finish. Paint it in your mind first  – then transfer it to the canvas. 
​Organizations: Mid-Atlantic Plein Air Painters Association (MAPAPA) – member, American Impressionist Society (AIS) – member, Maryland Federation of Art (MFA) – member, Outdoor Painters Society (OPS) – member.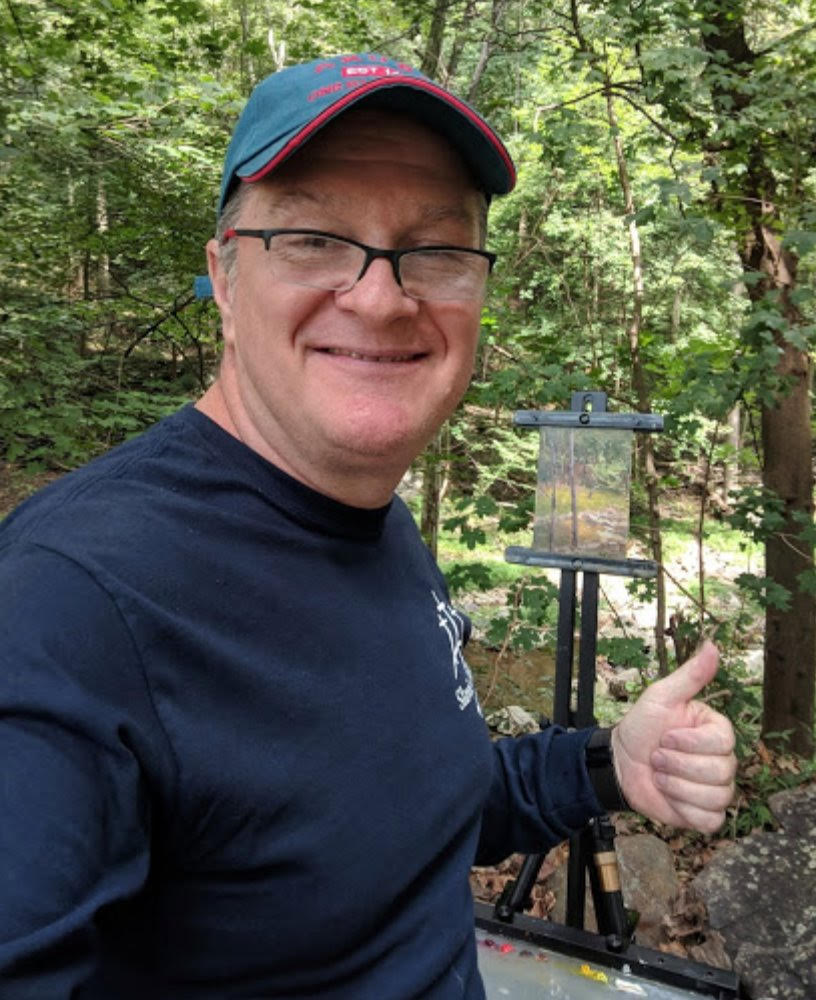 Raymond Ewing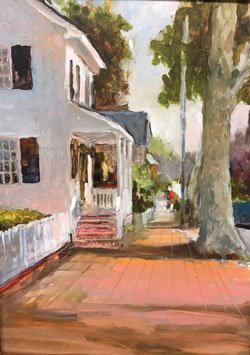 BY Raymond Ewing
Raymond Ewing grew up in the scenic mountains of western Maryland. The southern Maryland landscape now serves as inspiration for many of his paintings and is where he now resides. For the past ten years, Ray has taken his painting outdoors. His interest in painting en plein air has coincided with the revival of the movement. He has been juried into prestigious events along the east coast and has earned several awards. For the past thirty years, Ray has been an art instructor, an active juror and a guest lecturer in the Washington, DC area. He has been featured in solo and group shows throughout the Mid-Atlantic region as well as in New England. He has participated in the Department of State Art in Embassies Program and his work in included in private and corporate collections in the U.S. and abroad. Ray is represented by the North End Gallery in Leonardtown, Maryland and is a member of the Mid Atlantic Plein Air Painters Association, the Maryland Pastel Society and the Baltimore Watercolor Society. https://ray.fineartstudioonline.com/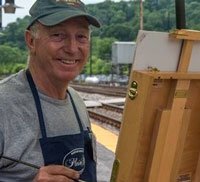 David Finnell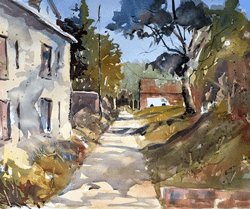 BY David Finnell
David has been painting in watercolor for thirty years.  He enjoys the challenge, fun, and camaraderie of plein air events.
As a juried or invited artist, he has taken part in The Lighthouse Plein Air Festival in Jupiter, FL; Plein Air Richmond in Richmond, VA; Easels in Frederick in Frederick, MD; Mountain Maryland in Cumberland, MD; The Hudson Valley Plein Air Festival in Wallkill, NY; Frank Bette Plein Air Paintout in Alameda, CA; The Floyd Biennial Plein Air Festival in Floyd, VA; Paint Lexington in Lexington, VA; Tidelands Plein Air in Tappahannock, VA; and, most recently, Plein Air Brandywine Valley in Wilmington, Delaware.
David grew up in Kansas City, Missouri, and attended Washington & Lee University in Lexington, VA.  He taught English at the United States Military Academy at West Point, NY, and, after retiring from the military, taught high school English in both Fairfax County, VA, and Frederick County, VA. David retired from teaching three years ago and now paints full time.  He and his family live in Charlottesville, VA.
Martin Geiger
Photo and bio coming soon!
Kim Hall
Photo and bio coming soon!
John Hancock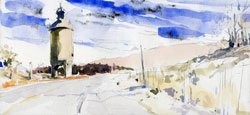 BY John Hancock
John Hancock makes art and teaches in the shadow of Blue Ridge Mountains of central Virginia. Prior to relocating here in 2000, John lived in a number of places throughout the Southeast and Midwest, which fueled his continued love of travel and his desire "for visual exploration of seemingly ordinary to the most interesting or exotic." John's paintings, drawings, and sketches start with direct observation of the world and a desire to understand our place in it. John regularly exhibits art locally, regionally, nationally, and has also shown in England. For many years, he balanced being an artist with working as an art professor. While he does still teach a college art class from time to time, John is now a full-time artist and also spends time working with adult students in classes and workshops, mentoring younger artists, judging art exhibitions, and making presentations to professional and community art groups and organizations. http://www.johnahancock.com/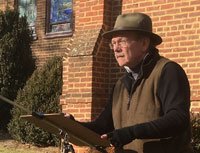 Elaine Hurst
Photo and bio coming soon!
Zachary Kator
Photo and bio coming soon!
Donna Cruce Kocka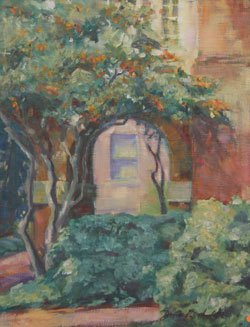 BY Donna Cruce Kocka
Donna Cruce Kocka has been working in the art field for many years in a wide variety of mediums ranging from set design to murals, portraits to faux finish furniture. She earned her BFA from the University of Tennessee and currently resides in Staunton, Virginia with her husband. She has studied with numerous colorists and plein air artists in painting figurative and landscape paintings. Donna has a "voracious appetite" for learning more about painting and developing her skills. Having taught art for over 30 years in numerous settings, she opened IagoArts Studio in 2016, a workspace for teaching and painting and a gallery in downtown Staunton. Donna works primarily in oil and she feels that the creative conversation between light, images and the artist is a deeply beautiful gift from God. She is often found pursuing painting en plein air in and around Staunton and the Shenandoah Valley.  www.iagoarts.com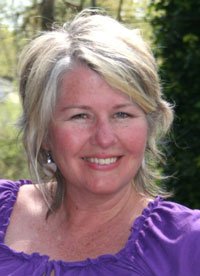 Brett LaGue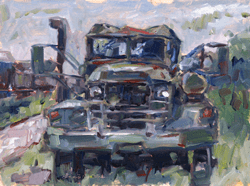 BY Brett LaGue
Brett LaGue's drawings and paintings are influenced by the color, texture, and energy of the landscape. He has exhibited his paintings and works on paper across the Mid-Atlantic in numerous solo and group presentations, art festivals, and plein air competitions. Brett is the recipient of a professional fellowship grant from the Virginia Museum of Fine Arts. His work can be found in corporate and private art collections throughout the United States as well as in England and France. Brett studied graphic design and illustration at the Ringling College of Art & Design and lives and works in historic Fincastle, Virginia. www.brettlague.com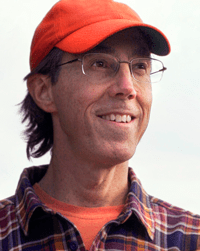 Carolyn Miller
Photo and bio coming soon!
Marjorie Perrin
Photo and bio coming soon!
Maria Reardon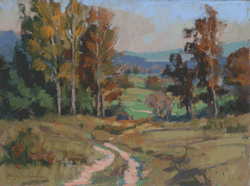 BY Maria Reardon
Maria Reardon paints the world around her. Working primarily in pastels, she loves being outdoors, immersed in the world, observing and experiencing everything going on around her. She's drawn to the unique and ever-changing relationships of form and color. Maria is intrigued by the unexpected combinations of light and color which characterize her work, while working within the confines of physical forms and the spaces they inhabit. She is a Virginia native and received her formal education from Virginia Commonwealth University earning a Bachelor's of Fine Art in illustration. Maria studied portraiture with Daniel Greene and continued her study of landscape by attending workshops with Albert Handell, Lorenzo Chavez and other nationally known artists. Her work has been exhibited throughout the Richmond area and is in private collections. www.mariareardon.com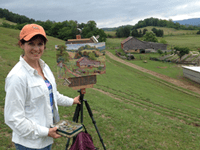 Peg Sheridan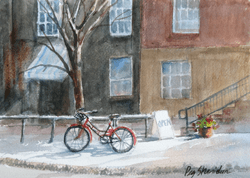 BY Peg Sheridan
Peg Sheridan is from Staunton, Virginia. She has been painting with watercolors for 38 years and has been teaching watercolor and acrylic painting for 18 years throughout Virginia, including at Beverley Street Studio School where she teaches regularly to sold-out classes. With a degree in Wildlife Biology, Peg has a special interest in painting landscapes and wildlife. Peg is a signature member of the Virginia Watercolor Society and is active in other arts organizations. She has won several awards for her paintings, including one national award, and is known for her loose, colorful watercolor paintings that are often painted onsite. Of her work, Peg says, "My paintings are a way for me to share my love of the outdoors and my appreciation for the beauty around us. I also love watercolor, with its transparency, ability to flow across the paper, and the wonderful surprises that happen. It is my hope that the joy I find in this process comes across in my paintings." www.pegsheridan.com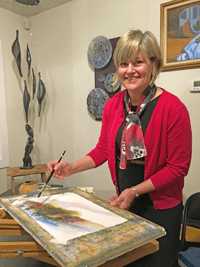 George Van Hook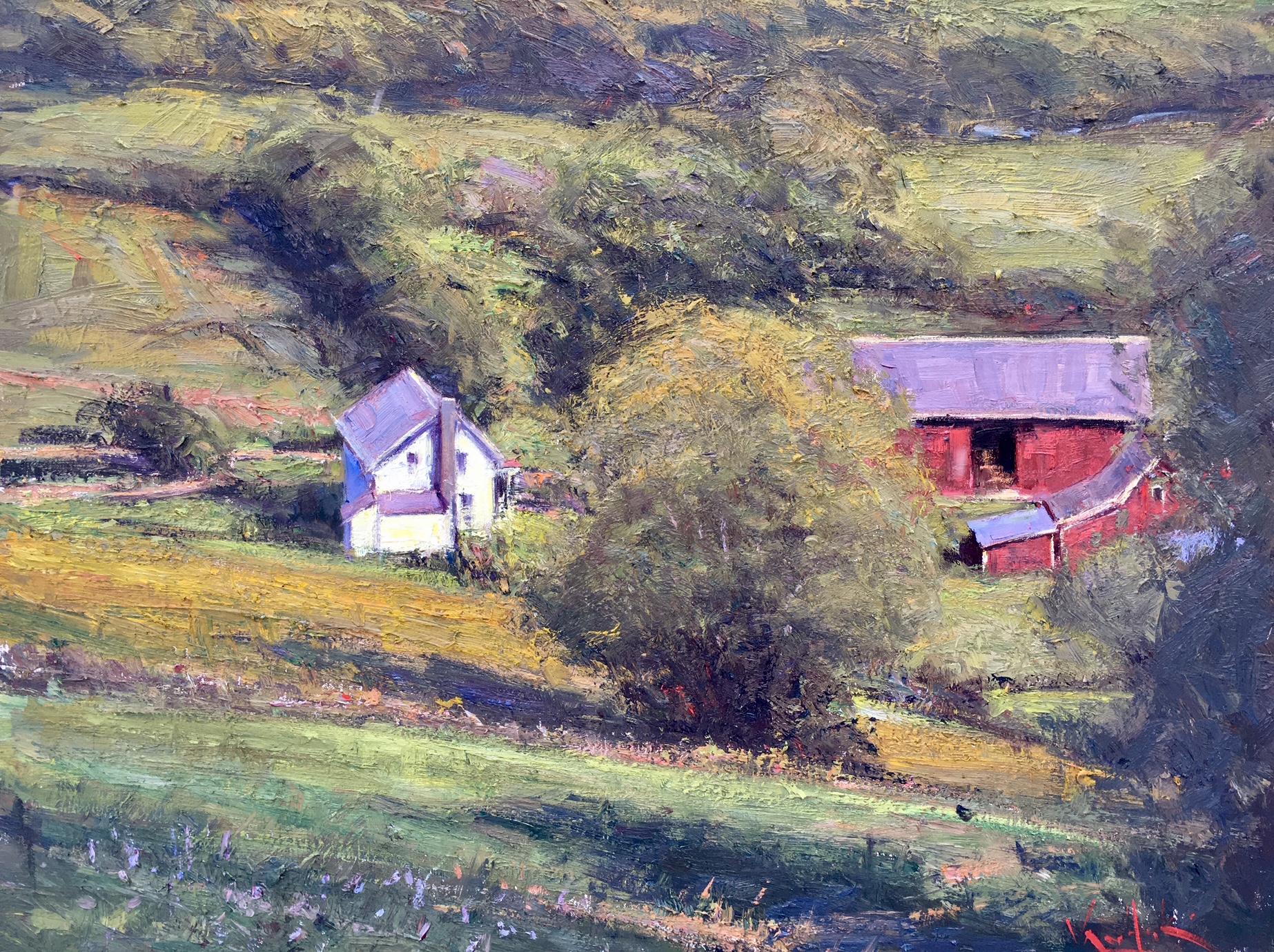 BY George Van Hook
George Van Hook was born and raised in Abington, Pennsylvania, a northern suburb of Philadelphia.  He began painting very early and was able to participate in the vibrant artistic culture of the region. His early 12 year tenure in northern coastal California afforded year round plein air painting. George has spend many summers painting coastal New England, especially mid-coast Maine and North Haven Island where his wife's family owned property adjacent to the famous Boston artist Frank Benson.
Van Hook thinks of his paintings as primarily a visual response to the selected environment, be it landscape, figure or still life.  "I want the color to be beautiful and the drawing firm and secure", he says.  The paintings are a marriage of external and internal forces – what emerges on the canvas should be a reflection of both the beauty of the world and the artist's most inner response.
Van Hook, a nationally recognized artist has won numerous Plein Air competitions and awards from around the country for his oils and watercolors.  George teaches Plein Air workshops around the country.  Please visit his website at: georgevanhookfineartist.com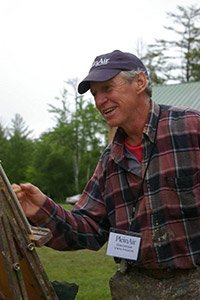 Dimitris Voyiazoglou
Photo and bio coming soon!
Meg West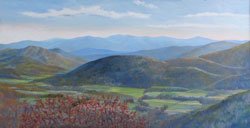 BY Meg West
Meg West went to the Philadelphia College of Art, where she majored in graphic design and minored in painting. After working for several years as a graphic designer, in 2000 Meg began painting full time. Meg says she paints every day and enjoys the rhythm and momentum that comes with a steady flow of painting. She adds, "The act of painting is what is important to me; I enjoy the feeling of being connected to my environment, myself and the painting. I look forward to developing as an artist and creating my future paintings. "Considering herself a localist, Meg focuses her painting in Albermarle and surrounding counties, as well as the Skyline Drive and the Blue Ridge Parkway. Meg prefers only to paint plein air and states that living in Virginia and all the beauty in the area compels her to paint. www.megwestoilpainting.net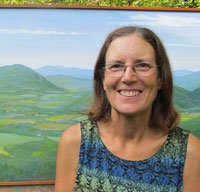 Check back often for updates!