A local Art Competition and Pop-Up Show & Sale
Friday, April 17, 2019
"The smiles on the student's faces when a patron purchased their artwork is an affirmation for me, as an art teacher, that authentic learning is an excellent method for art students to explore professional real-life experiences and help inspire a new generation of artists"

-Nance Sweet, Upper School Art Teacher, Stuart Hall School 
The fourth annual Paint Staunton Art Competition and Pop-Up Show and Sale will be held Friday, April 17, 2019 in the Sunspots Pavilion, across from Sunspots Studios in downtown Staunton, VA. Area plein air (what exactly IS "plein air painting"??) artists of all ages and skill levels are invited to compete within three categories, Professional, Amateur, and 16 and Under for a total of $1,200 in cash prizes and the opportunity to capture the timeless beauty of historic downtown Staunton.
Upon arrival, event organizers stamp the backs of the blank canvases. The painting competition begins at 9:30 am and ends at 12:00 pm. The artists submit the paintings for judging followed by the Pop-Up Show and Sale which is open to the public from 1:45-3:00 pm at the Sunspots Pavilion.
The Paint Staunton Art Competition will be held rain or shine.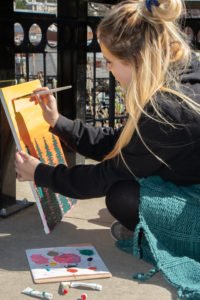 Event Schedule at a Glance:
8:00 – 9:30 am: Day-of registration and competition canvas stamping.
9:30 am – 12:00 pm: Create art in the medium of your choice (reference the competition boundary map to plan ahead)!
12:00 – 12:30 pm: Bring your work back to the Sunspots Pavilion to be judged by event jurors
12:30 – 1:30 pm: Enjoy lunch while the Paint Staunton Day juror works.
1:30 pm: Return to the Sunspots Pavilion for the announcement of prizes.
1:45 – 3:00 pm: Pop-Up Show and Sale. Be sure to invite your friends and family!
3:00 – 4:00 pm: Artwork pick up.
Register for Paint Staunton Quick Draw Art Competition three ways*: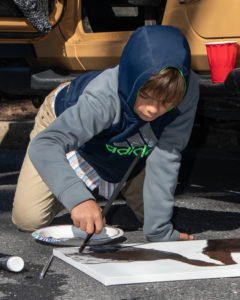 Register online! (link coming soon!) 
Contact the BSSS office by phone or stop by during regular office hours to pay and complete the registration form.
Register on the day of the event beginning at 8:00 am at the Sunspots Pavilion!
*If you are a school and would like to bring your students or class, please contact the BSSS office ahead of time so that we can best accommodate you. 
For easy planning, also download:
Everything you need to know!
We hope to see you there!
EVENT SPONSORED BY:

---
Sponsored by the Shenandoah Valley Kiwanis Club
In 2017, BSSS in partnership with the Shenandoah Valley Kiwanis Club launched an art supply drive in conjunction with Paint Staunton Day to benefit the Valley Mission. Over five crates of supplies were donated.
"The art supplies collected by BSSS have already been used for residents of all ages to express themselves artistically. We would love to see more growth in this area in the future." 

– Greg Beam, former Marketing Director at the Valley Mission
To further the Beverley Street Studio School's mission to expose our community to the world of visual arts, we will be collecting art supplies again this year. Drop off new supplies between 9:00am-4:00pm at the Sunspots Pavilion, April 17, 2019. All donations will go to the Valley Mission to help foster creative thinking among adult residents and provide a source of entertainment for residents' children.
Suggested supplies include: sketchbooks, canvases, acrylic paint, sidewalk chalk, paint brushes, finger paint for kids, pastels, and artists paper. Art supply drive