"The BSSS is truly a beneficial addition to the community and to each artist who participates in the unique and diverse  programs. There are very few organizations that can compare to BSSS"

– Barbara Wachter, BSSS Member
Open Session – Figure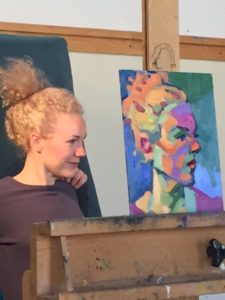 Beverley Street Studio School believes that a rich understanding and appreciation of the human form is an important foundation of art training and essential to the success of both figurative and non-figurative art. On Friday's (except from December 15-January 31st) a model is scheduled for a self-guided figure drawing/painting session for members and community artists to attend. This monitored open session is for participants of all levels who like to work from a model using their own media.
Sessions are held on Fridays from 10:00 am – 12:30 pm. Pay $10 cash at the door per session. Each attendee will be expected to follow the BSSS Open Session Policy & Procedure Guidelines.  Please review before attending.
NO SESSIONS FROM DECEMBER 15 – JANUARY 31. Be safe during winter weather and continue your practice at home.
Volunteer Coordinator, Karen Robertson who has a BA in Art from San Francisco State University and has taken multiple figure classes and workshops at BSSS, tends to model poses and lighting. This is a self-guided practice.
To become a model for Open Session, please email info@bssschool.org for a model application and more information.