"The BSSS is truly a beneficial addition to the community and to each artist who participates in the unique and diverse  programs. There are very few organizations that can compare to BSSS"

– Barbara Wachter, BSSS Member
Open Session – Figure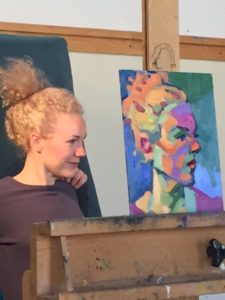 Beverley Street Studio School believes that a rich understanding and appreciation of the human form is an important foundation of art training and essential to the success of both figurative and non-figurative art. On Friday's (except from December 15-January 31st) a model is scheduled for a self-guided figure drawing/painting session for members and community artists to attend. This monitored open session is for participants of all levels who like to work from a model using their own media.
Sessions are held on Fridays from 10:00 am – 12:30 pm. Pay $10 cash at the door per session. Each attendee will be expected to follow the BSSS Open Session Policy & Procedure Guidelines.  Please review before attending.
SESSIONS WILL CONTINUE DECEMBER 13 – JANUARY 31 with the exception of the week of Christmas, December 27th.  Open Sessions will continue to follow Augusta County School Closings, but as always, use your best judgement and continue your practice at home if you are concerned with conditions.
Volunteer Coordinator, Karen Robertson who has a BA in Art from San Francisco State University and has taken multiple figure classes and workshops at BSSS, manages model poses and lighting. This is a self-guided practice.
To become a model for Open Session, please email info@bssschool.org for a model application and more information.