"Like a good painting, allow yourself time to develop"
– Jeffery Stockberger
Jeffery Stockberger is one of many highly esteemed professional and experienced educators at the Beverley Street Studio School. He has been teaching Indirect Painting at the School since 2005, a method of painting that develops finished work through a series of conscious and subconscious decisions that resolve problems through multiple layers of paint.
Many BSSS members and students know Jeffery as a laid back, soft-spoken teacher and artist, but few know the scope of his talent and ability, or that he started his own decorative painting business in 2004. He is a true professional and full-time artist who seamlessly connects the worlds of "fine" and "decorative" art.
His canvas paintings have been exhibited extensively throughout the region and his murals and faux finishes have been featured in such notable publications as Southern Accents, The Washington Post, Traditional Homes, and D.C. House Magazine. Jeffery received a BFA from James Madison University's College of Art and Design with intensive study in large-scale figure paintings at the Corcoran School of Art and Design.
After building an extensive portfolio at a firm in Washington, D.C., he started his own studio where he mostly paints murals and faux finishes for both commercial and residential clients. His business includes lengthy large-scale projects where he manages crews of painters and craftsmen up to ten, to smaller projects he completes personally. Although many of his clients are located in Virginia, his work has taken him as far as Berlin, Germany.
When he is not painting for clients, he works on his own body of oil paintings in his studio in Port Republic, Virginia.
We caught up with Jeffery to learn more about his work, the term "indirect painting," and his advice to new artists.
When and how did you make the leap to become a full-time professional artist?
I showed an interest in art at an early age and later pursued jobs that would strengthen my technical skills as an artist. My jobs have included working in frame shops, galleries, museums, and as a decorative artist and teacher. These jobs and painting behind an easel have been my work since I was 16, so you could say I "developed" into a full-time artist rather than "leaped."
Your professional career involves more than just painting on canvas or from an easel. What is the scope of what you do?
For the past fifteen years I have been working with designers, architects, and builders in the decorative arts, glazing walls and trim, painting murals and motifs, faux marble and wood, metal gilding and, in general, painting anything to look like anything.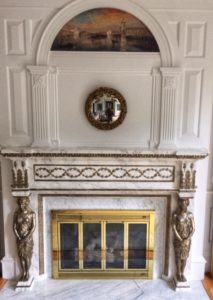 When I paint for a client, I am using my technical skills to bring to fruition their idea of color, texture, or landscape. When I paint for myself, my paintings develop over time and are not started with an end goal in mind. 
How do clients find you?
I'm usually found by an interior designer or through word-of-mouth. I let my finished work speak for itself and because of my fine art training have set myself apart in the decorative art market. Murals and surface decoration are a form of fine art and only in the past 100 years have they been viewed separately and unrelated. If you do quality work, people will notice. Every piece stands alone as a personal reference.
What has been your most rewarding project or painting so far?
I like that this question separates "project" and "painting" because there is a difference between the two, both in process and reward. Decorative "projects" are often a collaboration, with my work complimenting a space that has been created by many (builders, architects, designers, etc.). This collaborative effort in itself is very rewarding but is also very "direct" with a specific goal in mind and a plan on how to achieve it. I have been fortunate to work on a range of rewarding collaborative projects ranging from the U.S. Ambassador's Residence in Berlin to the Blackfriars Playhouse and the chapel in St. Francis of Assisi Church in Staunton.
In contrast, my reward in oil painting comes through the process of individual problem solving. My painting is "indirect" with everything evolving and developing as I respond in the moment to what is happening on the canvas. No plan, no goal, other than to respond and problem solve. I find this process more personally rewarding because the work is changing, the painting is moving in different directions and all things seem possible with an endless amount of outcomes.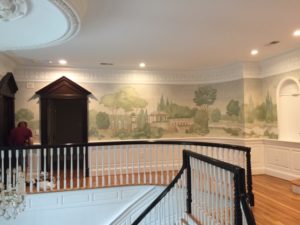 Can you share with us a professional aspiration or goal yet to be achieved?
Let's say, to make a better painting. It's a process with infinite opportunities to explore.
How did you get involved with the Beverley Street Studio School?
I had been taking advantage of the school's open figure drawing sessions when I was approached and asked to consider teaching by Mary Echols—who can say no to Mary?
Editor's note: Mary Echols is a founding member and driving force behind BSSS's success and development for the past 26 years.
Briefly explain the term and method of "indirect painting," the title of your BSSS class.
Indirect painting is a process which provides for the development of a painting through change. It's developing a painting by responding to each mark made on the canvas and problem solving. Indirect painting is the painting of Rembrandt, the 19th century French academy, and the great abstract painters of the first half of the 20th century. It makes your paintings more personal by conceiving ideas as you work. By starting with simple shapes, I am guided instinctively to make decisions about how they connect and work together to form art. It's a very natural way to paint, and a modern idea that has been around for centuries and has kept me pursuing art as a career and as a lifestyle.
Do you have any helpful advice to anyone just starting out in their painting/artistic career?
Never stop learning. Everything takes time. Like a good painting, allow yourself time to develop. Consider all of art history and the study of the human figure when working toward making vital contemporary art. An understanding of traditional methods and ideology will positively affect any form of art as it matures.
Sign up for Jeffery's Winter and Spring Indirect Painting classes on the BSSS website or by calling the office. You will not be disappointed that you did.