With Instructors/Trip Directors: Peg Sheridan and Betty Gatewood
Initial deposit due by November 1, 2018
September 8 – September 15, 2019
Bar Harbor and Acadia National Park
If you are an active adult who enjoys hiking, walking, art, nature, and plein air painting, this is the trip for you! Experience the beauty, culture, nature and cuisine of coastal Maine on this unique art-focused trip. Travel and learn from two experienced and award-winning artists and naturalists while you experience the beauty of this area first hand. Explore Acadia National Park and Bar Harbor, with its rocks, crashing waves, boats, migrating birds, northern habitats, and popular lighthouses (two accessible by boat only). Take a trolley to Cadillac Mountain – the highest point on the east coast – witness the spectacular crashing waves at Thunder Hole, and experience the beauty (and famous popovers) of Jordan Pond while learning and developing your botanical knowledge and discovering the joy of keeping a nature journal. Peg and Betty will also help you hone your artistic skill by sketching and painting the landscapes of trees, fog, rocks, waves, birds, and lighthouses through over 20 hours of instructional time. Enjoy fresh seafood and wine and cheese critiques alongside other art-passionate participants.
There will be opportunities to take part in daily painting and sketching lessons, including instructor demonstration and individual assistance. This instruction will be complemented with "mini lessons" about the natural history of the area. Evening critiques will be opportunities to share and learn from other participants and will be facilitated by Peg and Betty.
Activities will be alternated with enough free time for you to explore your own interests and go back to places you have already discovered. Take the free bus to many locations on the island, including interesting shops, galleries, and restaurants in Bar Harbor.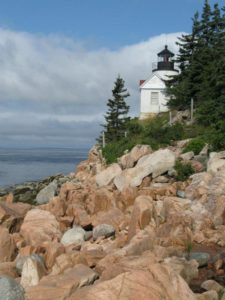 Acadia National Park:
With more than 47,000 acres, there is a lot to explore in Acadia National Park. There are miles of rocky coastline, lighthouses, Cadillac Mountain (which will have a hawk watch in September), Jordan Pond, the Carriage Roads, Sand Beach, the Wild Gardens of Acadia (Sieur De Monts Spring), the outcroppings of Great Head, and Thunder Hole (a naturally carved inlet where just before high tide, the sea rushes in and explodes to as high as 40 feet, sounding like thunder). There are 125 miles of interconnected and looping hiking trails that vary in length and skill level.
Bar Harbor:
Bar Harbor is a charming seaside town, with good restaurants, galleries, shops, and museums. There are beautiful views and plenty to sketch everywhere you look, including rocks, ocean, boats, fishermen, lighthouses, and cottages on stilts.
Accommodations:
Acadia Inn will provide a relaxing atmosphere, wifi and refrigerator in each room, free breakfast, full popcorn bar, pool and Jacuzzi. The Inn is located one mile from the visitor's center and one of the park entrances the travel study group will visit. A trail on the property connects to other park trails and Frenchman Bay is a short walk away. The free Island Explorer bus stops in front of the Inn every half hour, and goes to Acadia National Park, island beaches, and in-town shops and restaurants. Overnight accommodations on Thursday night, September 13 are not included in the trip fee and must be handled by the individual participant.
Transportation to Acadia Inn:
Transportation to Maine is not included (see below for a complete list of included trip amenities). Participants should arrive at Acadia Inn by 3 pm on Sunday, September 8, 2019 and can depart anytime after closing activities on Sunday, September 15.  
Transportation options from the Bangor Airport include shuttle service, taxi, or rental car and are not included in the cost of the trip.
Extra activities occurring during this trip:
A Night Sky Festival

Hawk Watch, as the birds will be migrating through the area.
On your own:
Possible activities to schedule and enjoy on your free time: take a whale or bird watching tour, ride a paddle board, go on a boat tour, rent a bike or sea kayak. There are several museums and galleries to explore in Bar Harbor and the Wild Gardens of Acadia, at Sieur de Monts Nature Center are free to enter.
Meet your instructors and trip directors: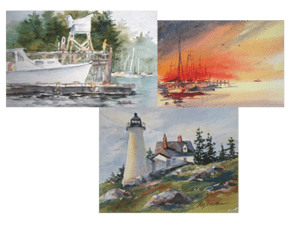 Peg Sheridan holds a BS in Wildlife Biology from Washington State University and was employed by the U.S. Forest Service as a wildlife biologist for twelve years. Peg has been painting in watercolors for 38 years and has been teaching watercolor and acrylic painting for 18 years throughout Virginia, including at Beverley Street Studio School where she teaches regularly to sold out classes. Peg has studied with many painters and has won multiple awards at plein air festivals and shows throughout VA including at the Shenandoah Valley Watercolor Society Show, the Bath County Art Show, and the Shenandoah Valley Art Center Members Show. Peg especially enjoys plein air painting, which combines her loves of nature and art, and she is known for her positive and engaging way of teaching.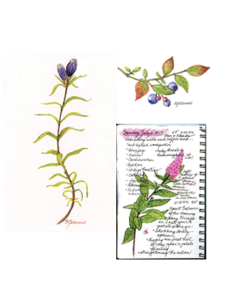 Betty Gatewood holds a BS in Secondary Education and Biology from University of Missouri – Columbia. Midway through her college career, Betty changed her interest from laboratory science to the "outdoor" sciences of ecology, natural history, and science education. She's been outdoors ever since – observing, hiking, skiing, teaching, learning, sharing, documenting, journaling and painting. Betty enjoyed being an Education and Interpretative Park Ranger in Shenandoah National Park for three years after many years of teaching middle/high school science and environmental education at Mary Baldwin University. She continues as an active member of Potomac Appalachian Trail Club and advisory council member for Appalachian Trail Conservancy's Trail To Every Classroom. Her many accomplishments includes providing the cover art for Virginia's Mountain Treasures, published by The Wilderness Society, and for the Virginia Native Plant Society's Wildflower of the Year brochures for 2009 and 2013 and she has contributed illustrations for the Appalachian Trail Conservancy's Junior Ranger Booklet and Virginia Department of Forestry's book, Common Native Shrubs and Woody Vines of Virginia. In 2016, Betty's witch hazel botanical illustration was on display at the US Botanic Garden in Washington, DC, along with 70 other botanical art images for the Flora of the National Parks exhibit. Most recently she illustrated the children's book, Milkweed Matters.
For more information about both of these talented art and nature enthusiasts, please visit their personal websites.
Included in the cost of the trip:
7 nights lodging at Acadia Inn

7 breakfasts at Acadia Inn

2 dinners in the town of Bar Harbor

1 lunch

Free transportation within the park and around Mount Desert Island, through the Island Explorer

Side trip to Cadillac Mountain via Oli's Trolley, including a brief sketching demonstration atop this mountain.

Approximately 20-25 hours of instruction lead by Peg Sheridan and Betty Gatewood that will include instructor demonstrations, facilitated critiques, and one-on-one learning opportunities. This will be subject to change depending upon weather and unforeseen student needs.

Day trip to Bass Harbor Light that will include a one-mile hike to view and sketch this famous lighthouse.

Acadia National Park explorations which will include painting, exploring nature, and participating in a range of activities.

Guided nature hikes, with an instructor. These will include learning about the natural history of the area and tips for recording it in a journal or painting. There will also be an optional activity with a park service ranger.
Not included in the cost of the trip:
Any additional nights stay at Acadia Inn

Most lunches

Some dinners

Transportation to Maine

Transportation from airport to Acadia Inn, and back to airport upon departure

Art supplies

Alcohol with meals

Whale watching and other trips (which participants can arrange for themselves, if desired).
Payment Schedule:
$300 with initial reservation (due by November 1, 2019)
$800 January 1, 2019
$500 February 1, 2019
Balance due: March 1, 2019
$250 for double room

$800 for single room
Total double occupancy: $1,850
Total single occupancy: $2,400
Refunds:
Up to 30 Days after Registration: $200 ($300 deposit minus $100 Administrative Fee)

Before February 15, 2019: 50% refund of what has been paid.

After February 15, 2019: Trip insurance is required before this date to reimburse for any unforeseen circumstances. No refunds after this date, when it is supposed that the registrant's travel insurance will cover their expenses.
Because of the nature of this trip, weather will play a role in the day-to-day activities. We ask that participants be prepared for the outdoor elements.
Register for this trip by calling the Beverley Street Studio School office today at 540-886-8636!
Some of our students who choose to purchase travel insurance for these trips have used Allianz Global Assistance for their coverage. Beverley Street Studio School has begun a new partnership with Allianz Global Assistance to provide travel insurance to BSSS students. If you access their site using the link below, BSSS receives a small credit, so you can help our school as well! This link will allow you to get a free quote on the cost for the plan you choose.  Using this link, you'll also be able to get a refund on the fee if you cancel the coverage within 10 days of purchasing as long as you haven't started your trip or filed a claim.  If you'd like to get your quote please use the link HERE
Get a free quote for travel insurance from Allianz Global Assistance