New Class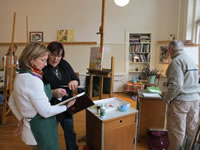 Beginner/Intermediate: Location: VanDerVeer Studio
3 Classes: January 8-22; Tuesdays 10:30am-2:45pm
TUITION: Members: $177; Non-members: $207
Sign up for sessions I & II before January 11 and receive a 5% discount on total price.
Start the new year with three days of stretching your mind, sharpening your skills, and discovering your artistic potential. You'll work on beginner or intermediate skill building in drawing and painting and participate in critique sessions to share your successes. Beginners will learn to draw from direct observation, introducing you to a drawing process that can lead you towards accomplished and successful work in the medium of your choice. Intermediate students will be guided to improve technical skills towards development of a personal style. At the end of Session 1, you will be ready to practice new skills beyond the BSSS studio and ready for continued study in Session 2. Bring a bag lunch so that class can continue with art appreciation that relates to areas of interest within the group and will broaden the scope of the class. Janly Jaggard is an experienced and accomplished instructor and will provide you with the one-one attention that you need to improve while facilitating a positive classroom experience. www.janlyjaggard.com
Suitable for pencil, pen, watercolor, acrylic, oil paint and other materials approved by the instructor ahead of time. A materials list will be provided after registration.
Makeup classes due to snow cancellations usually occur on the same day of the week and time of day as advertised class. Instructors will make this announcement.