New Workshop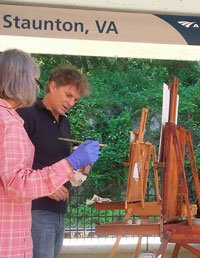 Beginner–Advanced: Location: VanDerVeer
Saturday & Sunday, May 18-19; 9am-4pm (1/2 hr. lunch break)
TUITION: Members: $194; Non-members: $224
Frank Hobbs is a Co-Founder of BSSS.
During this workshop with one of BSSS's most popular instructors, you will investigate the exciting ranges of possibilities available with both gouache and casein, two opaque, water-soluble paints. Frank will take you through explorations of color, technical processes, and composition on a variety of traditional and non-traditional surfaces. The creative options with both media include the transparent effects of watercolor but, by being opaque, they also have the potential for building rich translucencies, opacities, and textural surfaces like oils or acrylics.

Frank Hobbs is Associate Professor of painting and drawing at Ohio Wesleyan University, in Delaware, OH. A native of Virginia, Hobbs studied art at Virginia Polytechnic Institute & State University and later at American University in Washington, DC, where he earned his Master of Fine Art in1984. A co-founder of the Beverley Street Studio School in 1992, Hobbs lived and had his studio in Staunton for 15 years. In addition to conducting courses at the BSSS, he also taught at Washington and Lee University and Virginia Military Institute. Hobbs' paintings have been exhibited both in the U.S. and abroad in Ankara, Turkey, Phnom Penh, Cambodia, and Bermuda, through the Arts in Embassy Program of the U.S. State Department. His work is in numerous public and private collections internationally. The artist has received fellowships and grants from the National Endowment for the Arts, the Virginia Museum of Fine Arts, Virginia Commission for the Arts, the Vermont Studio Center, and the Virginia Center for the Creative Arts. Most recently, Hobbs is the recipient of an Individual Excellence in Art Award from the Ohio Arts Council. To see more about Frank, please visit http://frank-hobbsart.com.