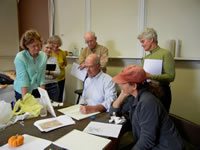 Intermediate/Advanced; Location: VanDerVeer Studio
Saturday March 11; 9am-3:30pm (1/2 hr. lunch break) (snow date March 12)
TUITION: Members: $95; Non-members: $125
(No charge to Naples participants)
Next time you're on vacation and are struck by a sight you'd like to record, don't snap a photo, reach for your sketchbook instead! This one-day workshop will get you started. You'll learn how a minimum of time and equipment can actually work to your advantage. Using a technique devised by the instructor and featured in recent issue of Drawing, you will see how you can start capturing such varied possibilities as scenery and architecture, activity and commotion, fellow travelers and interesting faces and figures. Most of all, you'll see how travel sketching – far from simply recording your trip – can become a treasured component instead.