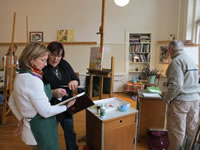 Workshop offered via Zoom
March Sat 13 & Sun 14

th

, 2021
10:00 – 2pm (1/2 hr lunch break each day)
TUITION: $150 members/ $180 non members
Even though one might think abstraction an easy option for creative process it presents many challenges.
The materials, the process, the decision making, obstacles and pitfalls are many but the rewards are worth the struggle. This workshop will discuss ways of beginning, methods for developing composition and finding resolve.
Artists taking this workshop should have some experience with creative process using whatever medium is of interest to them. Painters, enamellers, quilters are all concerned with composition, color, balance, and texture so this workshop provides ways to investigate and work effectively.
Min registration 4 max 10.