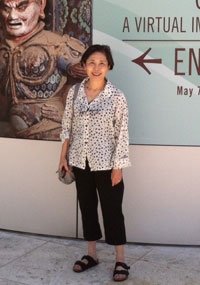 Beginner-Advanced; Location: VanDerVeer Studio
Monday, September 10; 3:00-7:30pm (dinner included)
TUITION: Members: $88; Non-members: $118
Have you been fascinated by Japanese culture and been thinking about visiting Japan? Is Japan on your "bucket list"? Then you will be excited by this workshop that will guide you through the customs and etiquette of Japanese culture. It will include practical information such as using public transportation, making reservations for Imperial gardens and performing arts, staying in traditional inns, and exploring dining and shopping options. Misa, a native of Nara, Japan, will suggest itineraries illustrated with slides of must-see sites. A simple dinner, including sushi, will be provided so you can experience the uniqueness of Japanese cuisine. The class is strongly recommended for trip planners and armchair travelers alike. Evening Schedule: 3pm-5pm lecture; 5pm-5:30pm dinner; 5:30pm-7:30pm lecture.