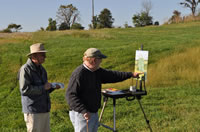 Level: Intermediate to Advanced painters
Location: Outdoor locations announced by Ron & BSSS Studios
Wednesdays:  9:30 a.m. to 1:30p.m.
October 6,13,20,27 & Nov 3,10,17  …seven meetings
TUITION:  BSSS member = $315.00   non- member= $340.00
All media
For students at intermediate to advanced levels. Any painting or drawing medium. Instruction is targeted to the individual participant to be compatible with his/her level of experience and any specific needs or intentions for new direction in his/ her work. Group demos and group projects will be suggested when appropriate. Usually class will meet outdoors, weather permitting. Class will meet at the BSSS studios when appropriate for lesson plans or because of weather.
Special Covid SAFETY SPECIFICATIONS. None at this time, although Covid concerns may limit options for locations of class due to need for public restroom facilities.