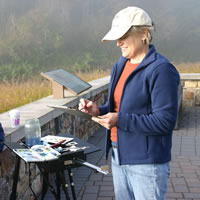 Location: VanDerVeer Studio in the Stonewall Jackson Building at 217 W. Beverley St. Staunton, VA 24401
Date: Monday, December 3 from 1:00-3:00 pm
TUITION: Members: $25; Non-members: $35; FREE to those already registered for the Travel Study Trip to the Coast of Maine 
In celebration of Peg and Betty's recently scheduled Travel Study trip to the Coast of Maine, they will be demonstrating and sharing helpful tips and tricks to document YOUR unique travel experiences.
Next time you are on vacation and are struck by a sight you'd like to record, don't snap a photo, reach for your sketchbook or travel journal instead! This fun and casual two-hour lecture and demonstration will help get you started.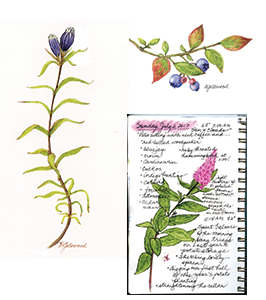 Peg will kick off the afternoon with a watercolor painting demonstration. She will show how to best capture rocks, waves, and seascapes – prominent sights on the Coast of Maine. Betty, with a background in biology and ecology, will then demonstrate how to capture nature's smaller details with pencil and pen sketches. She will also show you how to create a personalized travel journal specific for your needs. Both instructors will discuss potential materials, supplies and resources. Most of all, you'll see how travel sketching can become a treasured component of YOUR TRAVELS!
Suitable for those of all interests and artistic levels. The demonstrate is limited to 20 people; call the BSSS office or register below.
Please refer to "General Information" under Classes/Workshops for cancellation policy due to inclement weather.
Sorry this Workshop has filled. Please call the office to be added to the waiting list.