New Workshop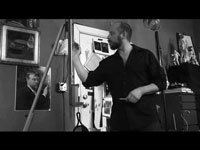 Intermediate/Advanced: Location: VanDerVeer Studio
Saturday & Sunday, May 4-5; 9:30am-4pm (1/2 hr. lunch break)
TUITION: Members: $215; Non-members: $245 (includes model fee)
Capturing the likeness, gesture, anatomy, and personality of a live model depends largely on the accuracy of the initial marks on a canvas. If those aren't right, the finished painting won't be right and no amount of detailing will correct those flaws. In this workshop, Darren Kingsley will focus on that initial definition of the model through a paintings. You will study the portrait in ways which will allow you to translate a three-dimensional reality into a two-dimensional painting that conveys the fullest possible sculptural form. From there you can build pai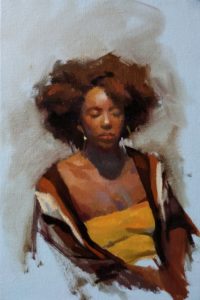 ntings that have a complete range of colors as well as accurate, relative value calibrations. You will execute all the concepts Darren explains through an application of opaque and semi-opaque oil paint in the light and shadow areas. This workshop is a special opportunity for artists interested in figure and portrait painting. www.darrenkingsley.com
The class will begin with demos in the mornings explaining the concepts for the day followed by studies of those concepts and insightful critiques. The last day will begin with a demo in the morning followed by a long pose.
Day One Schedule
Morning Demo
3-hour afternoon pose
Day Two Schedule
Demos throughout the day
6 hour pose
Darren Kingsley is a realist painter currently residing in Philadelphia. His training began at The Atelier in Minneapolis. In 2001 he moved to New York City to study with Nelson Shanks at the Art Students League of New York and shortly thereafter moved to Philadelphia to study at Shanks' newly opened Studio Incamminati. Darren was a recipient of the American Society of Classical Realism Scholarship and received a fellowship from The Hudson River School for Landscapes. In 2010 he was the winner of Grand Central Academy's Figure Drawing Competition. Darren exhibits at The John Pence Gallery in San Francisco, in various group shows around the country, and he teaches at Studio Incamminati in Philadelphia. His work has been featured in group and solo exhibitions and is included in many private collections including those of Nelson and Leona Shanks, Larry and Anne Hall and George Lucas. Darren has taught drawing and painting classes and workshops at Studio Incamminati, The Atelier, and Grand Central Academy.