New Class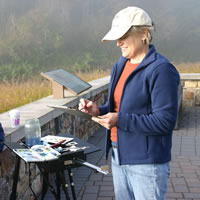 Beginning-Advanced; Location: Various outdoor locations, weather permitting.
6 Classes: July 13- August 10, 2020. Mondays 9:00am-12pm
TUITION: Members: $206; Non-members: $236
Discover the joy of painting outside, and visit some of the prettiest places in our area! You will be amazed at
how painting en plein air will increase your skill. We will learn tools for distilling a complicated scene into
connected shapes and values. Peg will share various methods and tools for plein air painting, and will do
demonstrations on site. You will choose what you paint. Soon all of your paintings, en plein air or in the
studio, will improve. Subject matter will vary. We will meet outside at a predetermined location each week,
unless the weather is bad, at which point we will schedule a make up class. The instructor will offer critiques and individual
help. A materials list will be provided.
Please know that this class will be limited to only 9 participants, with no guests or children attending.  There will be a waiting list if the class reaches capacity.  Also note, that due to the ever evolving Public Health Concern COVID19, the following waiver must be acknowledged before participation will be accepted:  BSSScovidwaiver
Registration is preferred via PayPal below.  If you would like to pay via CC over the phone, please email director@BSSSchool.org with a preferred contact phone number so we can reach out to accept payment over the phone.