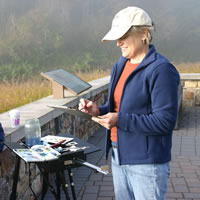 Class offered via Zoom
6 classes - January 11 - February 15, 2021
Mondays - 9:00 am – 12:00 pm
Tuition: $190 for members and $220 for non-members.
Do you feel like you have stalled in your watercolor painting? Do your paintings lack excitement and interest? Would you like to learn more about color and design? Then this may be the class that takes you to a new level! Get out of your rut, and try new ideas and techniques in watercolor. You choose your subject matter, and let Peg show you how to paint it in new, more interesting ways! This class is for those with some experience in basic watercolor techniques.