New Class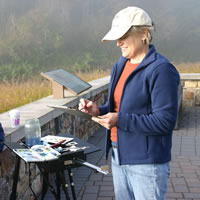 Beginner-Advanced:  Location: Van Der Veer Studio
6 classes: March 2 - April 6; Mondays 9:00am-12pm

TUITION: Members: $206; Non-Members: $236
Spring in the Shenandoah Valley is full of color and beauty. Let's use this inspiration to create beautiful paintings of nature, and learn new techniques at the same time. Each week, we will focus on a different aspect
of nature and watercolor techniques. Subject matter will include topics such as: spring landscapes, animals, birds, trees, rocks, creeks, etc. Each week, Peg will do a demonstration, hand out a color worksheet lesson,
and offer individual help. Drawing, planning your painting, and using a limited palette of colors will be emphasized. Soon, your appreciation of the outdoors will be enriched, and your paintings will have improved. A materials list will be provided.