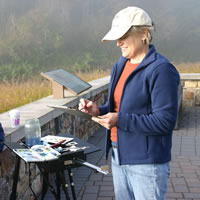 Level: Beginner to advanced painters
Location: BSSS Studios
6 Classes: September 13 to October 18th 2021. Mondays 9:00am-12pm
TUITION: Members: $190; Non-members: $220
Medium: Watercolors
No matter what you are painting, you can improve it by organizing the light, dark, and shadow shapes in a pleasing way. The best watercolors have exciting patterns of lights and darks, and colorful shadows. In this class, we will learn about how to plan values, how to save white paper for sparkle, how to make a subject look 3 dimensional, and how to get dark colors without making mud. We will also learn about reflected light, using silhouettes effectively, and painting colorful shadows. You choose your subject matter, and Peg will help you to paint your best version of it with the techniques we learn in class. The class will include: demonstrations, critiques, and color worksheets. Students will be given homework assignments. A materials list will be sent upon registration.
We will be following CDC recommendations.
Sorry this Class has filled. Please call the office to be added to the waiting list.