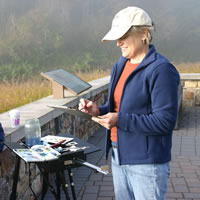 Beginning-Advanced; Location: VanDerVeer Studio
6 Classes: October 23-November 27; Mondays 9:30am-12pm
TUITION: Members: $165; Non-members: $195
During weekly lessons, you will study the designs, methods, and inspirations of master watercolorists and thereby learn to enhance your own paintings. You will choose one watercolor painting by a master to copy so that you will better understand his or her process. The other lessons will involve studying what made other masters' watercolors successful, practicing their techniques, and using that to paint what inspires you. Peg will start the sessions with a brief summary of some of the artists who shaped the history of watercolor painting, including Georgia O'Keeffe, Andrew Wyeth, John Marin, John Singer Sargent, and others. Peg will offer students detailed critiques and one-on-one assistance. www.pegsheridan.com
Register one week prior to class start date to enjoy Members' Tuition rates.
"Getting outside to paint really strengthened my confidence. Having other classmates around you painting is great. I learned from them as well. Peg teaches in such a way that is extremely helpful to beginners while still advancing seasoned students."

– Class Participant, 2017
Sorry this Class has filled. Please call the office to be added to the waiting list.