New Class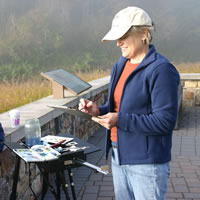 Beginner-Advanced:  Location: Van Der Veer Studio
6 classes: September 30-November 4; Mondays 9:00am-12pm
TUITION: Members: $206; Non-Members: $236
You can learn a lot by studying the methods and paintings of masters in watercolor painting. Furthermore, they will inspire you to try new techniques in your own work! Join us as we study the work of artists such as Winslow Homer, James McNeill Whistler, Charles Demuth, along with more contemporary watercolorists, such as Skip Lawrence and Zoltan Szabo. We will look at each artist's techniques, and try them on our own paintings. You choose works that inspire you, and either copy them or use what you learned from their work to enrich paintings of your own images.
Each student will also choose a watercolor master to either copy or inform his or her own paintings. www.pegsheridan.com
*This class is back for round II after very popular demand!  The class is appropriate for both those who did and those who did not take Learning from the Masters I, as it was not a prerequisite to this class!