New Workshop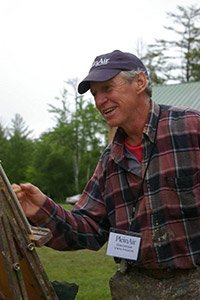 Intermediate–Advanced: Location: VanDerVeer Studio
Saturday & Sunday, April 6-7; 9am-4pm (1/2 hr. lunch break)
TUITION: Members: $200; Non-members: $230
Art teachers often complain their students just don't use enough paint, with the result being their paintings wind up with oil colors that are overworked and dull. George is brilliant at maintaining luscious, shimmering, thick qualities of oil colors that accurately describe the figures, barns, shorelines, clouds, and vegetation in his painting. George has won top awards in many plein air festivals and competitive art exhibits; and he is one of the liveliest, skilled, and passionate artists working today. Depending on the weather, George will either work from a clothed model in the studio or he will set up outdoors. The point of his workshop is to see and paint any subject accurately and expressively. George will stress alla prima painting and the use of loose and fast approaches to capturing the figure or landscape in the first try. Please bring your own plein air equipment, supports, and media (oil, pastel,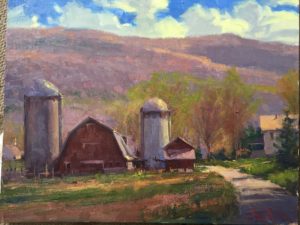 watercolor, acrylic). A materials list will be provided after registration. www.georgevanhookfineartist.com
Van Hook thinks of his paintings as primarily a visual response to the selected environment, be it landscape, figure, or still life. "I want the color to be beautiful and the drawing firm and secure", he says. "The paintings are a marriage of external and internal forces – what emerges on the canvas should be a reflection of both the beauty of the world and the artist's most inner response." Van Hook began painting at an early age and his work is influenced by his experiences in Bucks County, Pennsylvania, coastal Maine, and Europe where he traveled extensively. Following college, he left for Paris and spent nearly a year copying paintings at the Louvre and traveling through France, Italy and Holland making numerous paintings en plein air.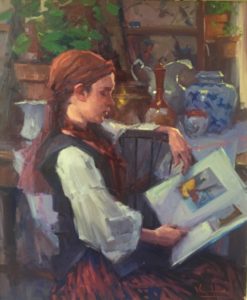 He is now settled with his family in Cambridge, New York where his works are in many prominent fly fishing collections connected with the nearby American Museum of Fly Fishing in Manchester, Vermont. Van Hook, a nationally recognized artist has won numerous Plein Air competitions and awards from around the country for his oils and watercolors. George teaches Plein Air workshops around the country.