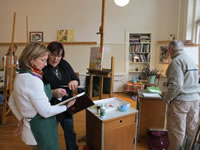 Intermediate-Advanced:  Location: Van Der Veer Studio
Session I - 5 classes: September 24-October 22;
Session II - 5 classes: November 5-December 10 (no class November 26); 
Tuesdays 1pm-4pm
TUITION: Members: $204 each; Non-Members: $234 each OR 
Members: $360 both sessions;  Non-Members: $390 both sessions
This series of classes is designed to take students beyond the basics of observational drawing and color application. Students identify their personal goals with regard to medium of choice and genre of work to explore. Drawing, painting, and various design applications are all welcome. This program fosters a rich learning environment that extends beyond just your time in the studio classroom. You will benefit from one on one attention to your studio work, suggestions for at-home approaches, as well as references for relatable artists to research for inspiration and study.
*This class is broken into sessions due to our instructor's availability, and in an attempt to accommodate students with busy schedules.  These classes may be taken independently as one is not a prerequisite to the other, though a discount (of 10% and one processing fee) is provided to any student who enrolls in both sessions at once.
Sorry this Class has filled. Please call the office to be added to the waiting list.