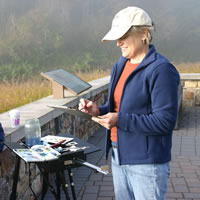 Beginning-Advanced; Location: VanDerVeer Studio
6 Classes: March 11-April 15; Mondays 9:00am-12pm
TUITION: Members: $190; Non-members: $220
Let Peg help you to improve your skills of observation, painting, and drawing by demonstrating how to sketch in a wide variety of media … and then confidently start a painting with only a brush! You'll use watercolor, pencil, ink, and many other tools to quickly develop sketches that accurately capture the gesture and shape of your subject … without laboring over the preparatory studies. Then you can employ your best sketches to create exciting paintings that have freshness and vitality. Peg will demonstrate how to train your eyes to see more, to record what you see with a few lines and shapes, and to use various sketching tools and techniques. Come learn new techniques, rekindle your joy in painting, develop reference material for future paintings, and establish a habit of sketching when you travel. Some classes may be held outside. Sketchbook assignments will be given every week.
Peg has been painting in watercolors for 37 years, and teaching watercolor painting for 18 years. She is a signature member of the Virginia Watercolor Society, and has won several awards for her watercolors. She is known for her encouraging, positive way of teaching. To see examples of her work, visit www.pegsheridan.com.