New Class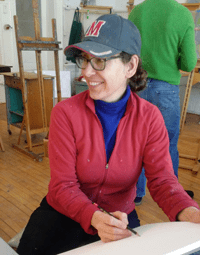 Beginner-Advanced: Location: VanDerVeer Studio and from your computer anywhere!
2 Studio Classes: January 26 & March 16; Fridays 9am-1pm & weekly online critiques.
TUITION: Members: $130; Non-members: $160
Here is a new low–residency option for those who live further away, have allergies to solvents, or don't want to drive in winter weather! Attend the first and last class at the School and then check in with the instructor for e-mailed assignments (with photo of the still life set up in the studio) and weekly critiques of your progress. After meeting with Elizabeth in the first session, you can study with her through email correspondence and pictures instead of attending the weekly Friday sessions. You can then return to the School for the final Friday session. www.elizabethgeigerart.com
Course Guide:
You will attend first (January 26) and last (March 16) classes in person at the BSSS.
For the remainder of courses, Elizabeth will email you three documents weekly:
"Lesson of the Week" which will focus on a specific topic of still life painting (ex: composition)
A painting assignment which will parallel the in-person classes occurring the same week
A critique of your previous work assignment
Assignments (est. 3-4 hours): Take the best photo you can of your painting assignment (you may use your phone to do so) and email it to Elizabeth (elizabethgeiger1@gmail.com) by 5 pm every Wednesday. Elizabeth will respond with an email critique, the next "Lesson of the Week", and the next assignment. The advantage to an online class is the schedule is flexible! Multiple assignments can occur in one week; if you cannot complete that week's assignment, you can do two the following week and email both photos to Liz. It is up to you; however, Elizabeth will not take assignments submitted after the final class date of March 16.
You should bring all of your work to the final studio class on March 16 to receive an in-person critique. This is an opportunity to get feedback on the assignments and help you continue to develop the work after the class has completed.
The cost of this course includes two in-person classes and one weekly email from the instructor with the documents listed above.