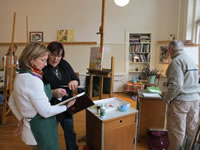 Level: Beginner to Intermediate painters
Location:  BSSS Studios
8 Classes: Tues Sept 14, 21, 28, Oct 5, 12, 19, 26, and November 2 - 12:30 pm to 3:30 pm
TUITION: $360 for 8 classes for members and $390 for non members
WE CAN DO THIS!! AGAIN!!!
If you think you can't Draw but wish you could, NOW is the time.
This course puts emphasis on drawing and painting from observation as the essential means by which we understand the formal elements and how to apply them to our practice as beginner artists.
Drawing is where to begin and continues to be a critical process throughout one's art journey regardless of medium or genre. 
If you have done some painting but want to develop style and ability level, this is a class to help you on your way.
Sorry this Class has filled. Please call the office to be added to the waiting list.