New Class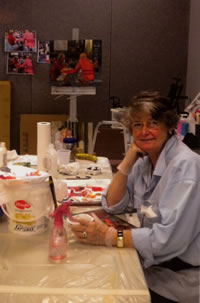 Beginner-Advanced: Location: VanDerVeer Studio
 Classes: April 5-26; Fridays 10-12pm
TUITION: Members: $121; Non-members: $151
Beginners to advanced students are encouraged to take this class to gain a better understanding of drawing fundamental and the joy of the creative process. Your work with Pat Cook, an experienced instructor and lifetime artist, will influence all forms of your future art. Pat believes drawing can be learned if you have the desire and find the joy in mastering the process. The course will start with use of basic materials such as pencil, pen, and sketchbook; and it will introduce the elements of shape, line, contour and value. Simple perspective principles will also be explored. "I look forward to sharing a lifetime joy of drawing with you" – Pat Cook. www.patcookart.com
As if you had any question about the importance and impact of drawing:
https://www.inc.com/jessica-stillman/drawing-is-fastest-most-effective-way-to-learn-according-to-new-research.html
Pat is best known for her figurative series "Conversations" which has won numerous awards in national and international exhibitions. These include top awards in Catherine Lorillard Wolfe, American Watercolor, Rocky Mountain and National Watercolor. A painting of Pat's was chosen for the 2012 Shanghai Zhujiajiao International Watercolour Biennial Exhibition. She holds signature membership in the American and National Watercolor Societies and many other art organizations. Pat has served as a juror of selection and awards for many exhibitions including juror of selection for the 2010 American Watercolor Society Exhibition and the 2005 National Watercolor Society Exhibition. She has been published in The Artist's Magazine, International Artist, American Artist, Watercolor Artists, and Palette Magazine.