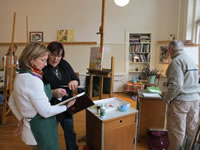 Saturday & Sunday, December 5th & 6th, 2020
9:30 am - 3:00 pm
Tuition: Members $60; non-members $90
This offering is about time and space, uninterrupted!!
Janly Jaggard will provide artists with a safe space for a two-day uninterrupted studio experience. She will function as coordinator, not instructor. Each participant will focus on their own work, using this time to be totally away from external distractions, yet have the support, feedback and community of others. A critique session will be part of the workshop.