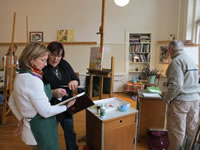 January Saturday 23

rd

& Sunday 24

th

, 2021
9:30 am to 3:30 pm
TUITION: $60 Members ; Non-members: $90
This offering is about Time and Space, uninterrupted!!!!
Janly Jaggard will provide artists with space for a TWO day of uninterrupted studio experience. She will function as coordinator, not instructor.
Focus for the weekend will be on YOUR OWN WORK: each participant will use this time to be totally away from external distractions but have the support, feedback, and community of a maximum of 7 others as we plan for critique amongst ourselves.
This opportunity is limited to 7 artists at a time.
COVID RULES STRICTLY APPLIED. Masks to be worn at all times. A maximum of 4 artists in a studio that typically provides space for 10.