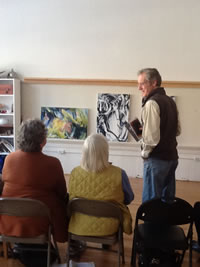 Level: Intermediate- Advanced 
5 Classes (every other week): September 13th, 27th,  October 11th & 25th, November 8th, 2021.  Mondays 2 pm to 4 pm.
TUITION: Members: $170; Non-members: $200
This class is designed to challenge participants to grow and to develop their own voice while exploring the "territory of art". This will include visual presentations and discussions of works by historical and contemporary artists, as well as class critique of works submitted by students (to be shared with the class digitally). Instructor will also review current museum exhibits, gallery shows, and articles on art. Let's talk about art!
Sorry this Class has filled. Please call the office to be added to the waiting list.