Spring 2021 : Class : Plein Air Painting in Watercolor: Peg Sheridan
Sorry this class is FULL.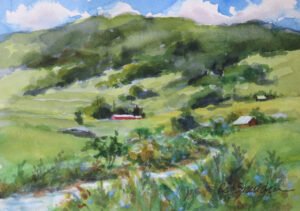 Discover the joy of painting outside, and visit some of the prettiest places in our area! You will be amazed at how painting en plein air will increase your skill. We will learn tools for distilling a complicated scene into connected shapes and values. Peg will share various methods and tools for plein air painting, and will do demonstrations on site. You will choose what you paint. Soon all of your paintings, en plein air or in the studio, will improve. Subject matter will vary. 
We will meet outside, at a predetermined location each week, unless the weather is bad (when we will either meet in the studio or reschedule the class). The instructor will offer critiques and individual help. A materials list will be provided.
Important: We will be following CDC guidelines. Do not come if you are not feeling well.
Spring 2021 : Lecture : Taste & See: History & Culture of Japanese Cuisine: Misa Kobayashi Stuart
Traditional Japanese cuisine is designated as UNESCO Intangible World Heritage of Humanity. It is known as Washoku. It is not just food, or recipes, but also culture and attitude toward materials, the seasons, nature and customs. In this program, we'll look at the characteristics of Japanese cuisine, how it was developed, and the cultural and historical backgrounds which nurtured it. Topics will include materials – particular cooking utensils, seasonings and ingredients – and recipes. Classes will be one hour of lecture with optional 15 minutes Q&A 
Spring 2021 : Workshop : Sketching Staunton: Ink & Watercolor Sketching: John A. Hancock
Sorry this workshop is cancelled. Please call the office for more information.
This 2-day workshop will cover traditional Plein-Air/studio skills as well as some very more contemporary approaches to the art of sketching. Beginning with an exploration of basic sketching with watercolor & ink skills, we will also explore design concepts for successful sketching. You will have the opportunity to develop two distinctly different but complementary techniques for boldly combining ink and watercolor. Open to beginners and more experienced students; advanced students welcome! This workshop will be conducted outside, taking advantage of Staunton's urban and neighborhood landscapes. Social distancing and mask required. Social distancing and mask required. 
Spring 2021 : Workshop : Crash Course in Portraiture: Shawn Dell Joyce
Get a crash course in proportions of the human head, capturing a likeness, and techniques to simplify facial features. Work from proportion charts developed by court portrait artists in Renaissance era, for profile and full face. See how beautifully proportionate human beings are, then make a detailed sketch of a profile portrait, and a full face portrait from a photo reference (supplied). Once, you get the hang of it, we will work from photo reference using pencil and charcoal. Open to beginners, intermediate and advanced students. 
Materials: pad of charcoal paper, 2B or 4B pencil, charcoal or Conté. 
Spring 2021 : Workshop : Sketching Staunton: Classical Pencil Sketching: John A. Hancock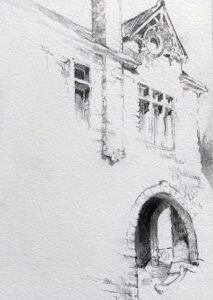 This 2-day workshop will cover traditional Pencil drawing skills for sketching in Plein-Air and the studio. In addition, we will even engage some very contemporary approaches to the art of sketching and sketch design. You will explore basic sketching design and drawing skills, particularly the use of line and shading. We will also experiment with the use of chisel point lead techniques. Open to beginners and more experienced students, advanced students are especially welcome! This workshop will be conducted outside, taking advantage of Staunton's urban and neighborhood landscapes. Social distancing and mask required.
Spring 2021 : Class : Getting Serious about Art!: Janly Jaggard
This series of classes are designed with the serious art student in mind. Emphasis will be on perfecting foundational skills of drawing and painting from observation and developing personal style from there. There will be a figure drawing component of the course. A significant aspect of the program will focus on preparation of a college application portfolio for those who hope to attend college as an art major. Other students will focus on independent projects. Students will be encouraged to carry out some art work between classes. 
(Janly has many years of experience teaching High school students at Stuart- Hall school, Staunton and at the Shenandoah Valley Governor School in Fishersville). 
Spring 2021 : Class : Art as Exploration: The Critique Class: Robert Stuart
This class is designed to challenge participants to grow and to develop their own voice while exploring the "territory of art". This will include visual presentations and discussions of works by historical and contemporary artists, as well as class critique of works submitted by students (to be shared with the class digitally). Instructor will also review current museum exhibits, gallery shows, and articles on art. Let's talk about art! 
Spring 2021 : Class : Tonal Drawing: Elizabeth Geiger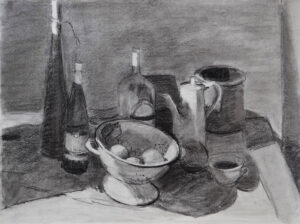 Tone underpins a lot of big issues in art – composition, mood, light, space and form. This class will examine these aspects of artmaking through tonal drawing using a variety of subjects from still life to interiors to self-portraits. Tonal drawing is a way to discover the subtleties and drama of value while also learning to organize an image with darks and lights. Plus, it can serve as a bridge to painting since it deals with masses more than lines. Each class will include critiques of homework, discussion of ideas with master images as examples and demonstrations by the instructor.
Spring 2021 : Class : Drawing Trees: Martin Geiger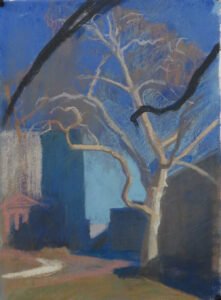 This course outlines a solid and structural approach to draw and how this specifically relates to drawing Trees. Both bare and with foliage, Trees can be rather intimidating. We will cover the basics of how to draw the tree as a simple volume, with methods and materials covered as well. We will then gradually expand our knowledge to include how to deal with branches, foliage, tree trunks and anything else you might think of, all with a myriad of master drawings of trees to supplement your learning and inspire your personal practice.
Spring 2021 : Class : Study and Practice in Painting and Drawing: Ron Boehmer
The focus of the class will be on independent needs and projects, and individual and group critiques. Occasional instructor demos will be done on specific issues of painting in Plein air and painting landscape. Students may work in any medium for painting or drawing. NO computer generated processing of images will be presented. Class is designed for intermediate to advanced levels of experience in painting /or drawing. Instruction emphasizes cultivation of "skills of perception" and "understanding of how art images work and why they work the way they do." 
Class will meet outdoors at various locations in or around August County, Staunton, Waynesboro and the Harrisonburg region. Specific locations will be last minute decisions based on the weather, Covid issues, and access to rest room facilities. 
Spring 2021 : Class : A Class for Beginner Artists: Janly Jaggard
The foundation of skill building for the visual arts is observational drawing. Although this is not a straightforward method to teach online, the series of classes will work with each student to enable drawing with skill and understanding. 
Classes will use simple still life compositions set up that I will guide you to observe and draw. Additional tonal value, and then a progression towards color will be introduced as each student is ready. 
Spring 2021 : Class : Young Artists Wanted!!!: Janly Jaggard
This session of in-person class is offered for young people who know they want to learn some art skills. They already love to draw and paint but want to explore a few different mediums. These students are showing creative potential that deserves to be nurtured. Each class will last 2 hours without a break so good concentration and focus is needed. The class size is limited to 5 students in consideration of social distancing 
The class will offer possible projects during the course such as simple print making, drawing from observation, intro to painting with acrylics, simple clay pieces. 
Winter 2021 : Workshop : Transition towards Abstraction: Janly Jaggard
Even though one might think abstraction an easy option for creative process it presents many challenges.
The materials, the process, the decision making, obstacles and pitfalls are many but the rewards are worth the struggle. This workshop will discuss ways of beginning, methods for developing composition and finding resolve.
Artists taking this workshop should have some experience with creative process using whatever medium is of interest to them. Painters, enamellers, quilters are all concerned with composition, color, balance, and texture so this workshop provides ways to investigate and work effectively.
Min registration 4 max 10.
Winter 2021 : Workshop : Make Your Watercolors Sparkle by Using the White of the Paper: Peg Sheridan
We seldom learn about one of the most important aspects of painting in watercolor: designing paintings that use the white of the paper. Yet this skill can help your paintings have a better range of values, and a real "WOW" factor! When whites are prominent in a watercolor painting, the painting can have a contemporary, and often peaceful, look. Peg will show you how to plan your painting, using a small value sketch. She will discuss designing paintings by "weaving" whites into the design. She will demonstrate various ways to "save" the white of the paper. You will choose the subject matter you would like to paint. Peg will offer demonstrations, a color worksheet, and individual help. Most students will complete two small paintings during this class.
A materials list will be provided. Space will be limited in this class, so sign up early.
Winter 2021 : Class : Painting with Complements: Elizabeth Geiger
Students will make observation paintings and color studies from old master works using one of the complementary palettes as the basis for their colors schemes – red & green, yellow & purple, orange & blue. Any subject matter is acceptable – still life, self-portraits / figure, or landscape. Weekly critiques of homework will be followed by in class painting exercises.
This is the perfect follow-up class for Liz Geiger's Drawing the Still life Class!
Winter 2021 : Lecture : The Great Modern Movements in Painting: Impressionism, Post Impressionism, Fauvism and Modernist Painting: Al Gury
Join Al Gury for a 4 evening visual presentation.
Thursday: February 18th – March 11th, 2021 – 6 pm – 7:30 pm Eastern time (4 classes)
TUITION: $150 members/ $180 non members
Each 1.5 hour presentation on Zoom will include the historical and social context of each movement, background on the great painters of each approach, their methods and color palettes, a demo video of each method made by Al, and Q & A discussion. Examples of the great works of these periods will be presented and discussed.
Not a hands-on workshop, this visual and interactive presentation provide a stimulating reference for decisions about your personal painting approaches as well as providing enrichment and background about art history and painting methods.
This workshop is open to artists, students, and interested persons of all art experience.
https://www.algury.com/
Winter 2021 : Lecture : Rivalry in the Renaissance: Dr. Sara N. James
As a pandemic diversion, let's explore the exciting post-plague burst of creativity that began in Florence around 1400 with the rise of the Medici family, then move to Orvieto and Rome in the 1490s, and end with the death of Pope Julius II in 1513. We will explore not only rivalries but also collaborations and borrowings among artists and architects, including Brunelleschi and his Florence Cathedral dome, Ghiberti and the baptistery doors, Donatello, Masaccio, Botticelli, Leonardo da Vinci, Luca Signorelli, Michelangelo, Raphael, and more! Perhaps our post-pandemic can involve travel study in Italy! Stay tuned.
The initial impetus for this unique burst of creative activity included economic prosperity, relative peace, and generous patrons operating within a republican government that encouraged competition for major commissions—and compete the artists did!
Winter 2021 : Lecture : Virtual Tour of Japan: Misa Kobayashi Stuart
Have you ever wanted to visit Japan? Door-to-door traveling time to Japan could take up to 24 hours, or even longer, and you'll have to deal with jet lag, since Japan is 14 hours ahead of EST. This three-part Virtual Tour of Japan will take you there sitting in a comfortable chair, without dragging your suitcases, or being confined in a tight airplane seat with a mask for many hours. Your tour will include a brief history, useful cultural & practical information when you visit, and sightseeing highlights of: Tokyo & vicinity; UNESCO World Heritage Sites; Kyoto; Nara; and more!
Jan 26

th

Brief history & cultural information, Arrival in Tokyo
Feb 2

nd

Tokyo & vicinity, Takayama, Shirakawa-go
Feb 9

th

Kyoto & Nara
Winter 2021 : Workshop : Artist Lock In – DO NOT DISTURB!: Janly Jaggard
This offering is about Time and Space, uninterrupted!!!!
Janly Jaggard will provide artists with space for a TWO day of uninterrupted studio experience. She will function as coordinator, not instructor.
Focus for the weekend will be on YOUR OWN WORK: each participant will use this time to be totally away from external distractions but have the support, feedback, and community of a maximum of 7 others as we plan for critique amongst ourselves.
This opportunity is limited to 7 artists at a time.
COVID RULES STRICTLY APPLIED. Masks to be worn at all times. A maximum of 4 artists in a studio that typically provides space for 10.
Winter 2021 : Class : Drawing the Still Life: Location Mark and Line Drawing: Elizabeth Geiger
Participants will use pencil, charcoal pencil and/or conte crayon in drawing pads and on sheets of drawing paper. Location mark drawing is helpful in mapping out a subject: finding the relationships between objects, determining their scale and proportion as well as fitting everything you want onto the page. Line drawing is the most basic and elegant type of drawing in art. There will be weekly slide talks of drawings from art history as well as critiques of student work.
(5 classes) Fridays January 15 – February 12 Noon – 3 pm EST
1
2
3
11
21
Next ›
Last »