Content and images by Lianne Minnis
This Fall, Beverley Street Studio School had the pleasure of hosting artists Brian Rego and Matt Klos, who shared their approaches to painting during free lectures and an exciting, informational workshop, Perceptual Painting with the Landscape, Interior, and the Figure. In the workshop, participants watched demonstrations and received help from both instructors as they painted in both landscape and interior settings and learned more about materials, color and light, composition, and modes of observation.
We caught up with Brian to get his perspective on why he "does" art, what draws him to Staunton, and how he and Matt blend their unique teaching styles to deliver a unique workshop experience.
Why do you "do" art?
For me, art is more about being than doing. Whatever I nurture in my heart, finds a way to my mind, and it likes to make things.
What's your background?
I have drawn my whole life, but started painting at the age of 20. I am 37 now. Drawing was an immediate way to make something manifest that resembled the things I liked. Painting has been a way to get to know them. I received my BFA in painting at the University of South Carolina in Columbia, SC, and my MFA at the Pennsylvania Academy of the Fine Arts in Philadelphia, PA. I was very fortunate in that I was able to work with some very good painters and teachers who helped me make sense of this enigmatic and often times elusive endeavor of painting. I don't think painting is so much a "how to" as it is a "why." As I begin to realize why I paint, the "how" reveals itself as I am ready for it in the process of creating. Painting is not formulaic, but transformative. There have been no shortcuts, just lots of hard work.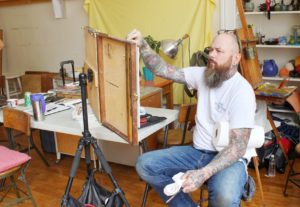 What draws you to Staunton?
A lot of care and intention has gone into the architecture of the town, the layout, the individual homes and buildings. There is a particular aesthetic that holds the form of the town together, a special narrative. The Beverley Street Studio School is a part of this narrative, supporting painterly and other artistic aesthetics. I am grateful to have the opportunity to work with such a school.
How do you teach together? Does one instruct while the other supports, or do you work in a different mode?
This was the first time Matt and I have worked together, and it was a good learning experience for the both of us. Matt is a very sharp, intentional instructor who likes to focus on the particular and broaden out; I am of the opposite approach as I tend to start broader and narrow my focus in on the particular. We both rely on modes of observation which inform our work and teach out of that experience. There is a rhythm that occurs when teaching tandem where one instructor paints alongside the students while the other instructs more formally. Both are valuable methods of instruction as the students learn from lecture and studio-based formats simultaneously.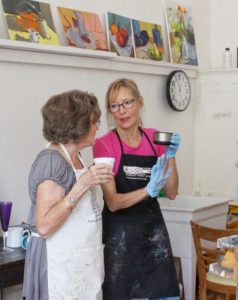 What work do you most enjoy doing?
I most enjoy my recent work, but I am not settled in it. There is a deeper level of invention and narrative in my work that tends to be autobiographical in an indirect way. I never start off with a narrative in mind, rather, the narrative forms as the painting reveals itself.
How has your practice changed over time?
I started painting outdoors mainly because of the beauty and the intensity of the landscape. I had very little formal instruction at first so my decisions were intuitive, but they did not necessarily relate to one another to make a cohesive image. As my wife and I started having children, I made the shift to painting more in the studio. I typically begin painting on location, and then advance the painting later (sometimes much later) in the studio. I like to spend time with the memory of experience and place, and to let the imagination uncover something that is not seen unless given to stew for longer periods of time than what is normally provided when painting on location. I used to be a very reactionary painter, and still am to a degree, but I think I am more tempered and informed than I used to be. I have found the advantage of utilizing the pause between decisions. Rest in the pause, but do not stay there.
What's the most indispensable item in your studio?
My leather visor and my field easel. I was given my leather visor by my father and the field easel by my grandmother. These items remind me that I am where I am because of the support of my family and friends, and I use these items almost every time I paint.
What are your hobbies?
I love to read, and I enjoy writing and composing music. I am not good at it, but it brings me satisfaction and immediate gratification. I can instantly transport to a place through music while performing it (privately of course).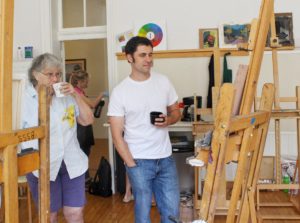 What inspires your work?
I would say beauty, and there are so many forms of it. I find beauty in my family, in nature, in my religion, in humanity, in suffering, etc. The more I embrace these things, the more beauty surprises me in unsuspecting places, in unsuspecting ways.
What advice do you have for new artists?
I have five pieces of advice I would like to offer a new artist: 1. Be kind to yourself. 2. Work harder than you think you are good; "good" doesn't matter anyway. 3. Pay attention to what attracts and repulses you. 4. Do not allow another artist's technique or way of thinking shortcut your process of transition (letting go of a sure thing while having not yet found anything to hold on to). Transition is a part of transformation, you need one to have the other. 5. Be patient and pace yourself.
The best piece of advice I have ever been given was by my undergraduate professor who told me to paint my life. This statement, at first, appeared simple to me. But I find the more life I live, the more profound this statement becomes.
Learn more about Brian and his work on his website, brianrego.com. Also, both Brian and Matt Klos are part of the Perceptual Painters group that "explores contemporary observational painting with some type of modernistic view." Learn more about Perceptual Painters at perceptualpainters.com.