April 23-April 30, 2019
Register by August 1, 2018
Brief Trip Description
This 8 day/7 night trip will be a food, art, and history tour introducing you to the wonders and magic of
San Miguel de Allende
. You will also have the opportunity to participate in a two-day oil painting workshop with
Efren Gonzalez
, a renowned artist and teacher from Ajijic, Mexico. All of your needs for this workshop will be provided by Efren
(
i.e. canvases, paints, brushes, liquin, solvent and an assistant will be provided by Efren). The workshop will conclude with a
"
Pop-Up Art Show" at the B&B featuring the completed paintings you have created during your stay
(
participation optional) in addition to an art show for Efren's work. This will be organized by our hostess at the B&B, Barbara Poole, who is an avid supporter of the arts in San Miguel de Allende.
Brief Location Description
San Miguel de Allende, Mexico, with a population of 100,000, was voted Conde Nast Magazine's
"
Best City in the World" for 2017, beating out other favorite destinations like Florence and Cape Town.
This colonial era city, located in the central highlands of Mexico, has garnered an excellent reputation for its thriving art scene, cultural activities, and Baroque architecture. There are more than two dozen art galleries
(
many offering classes), a plethora of restaurants, and a varied choice of stores selling unique merchandise.
Additionally, there are more than 25 churches in this small city. Just 25 minutes north of the city is the sanctuary of Atotonilco, often referred to as the Sistine Chapel of Mexico, an exquisite example of 18th century Baroque Mural work.
San Miguel de Allende, which encompasses 64 historic blocks in the city center, was named a UNESCO Heritage Site in 2008. That designation has transformed this city into a world-class destination which was recently voted the number one best "small city in the world".
Accommodations
Madam Turca's Casa de la Noche
is a 14 room B&B located at Organos 19, Centro San Miguel de Allende. This quiet close-in location is an easy walk to the main square and jardin. Your stay will include a healthy start breakfast daily.
Transportation
Room rates include all transfers from and to the Leon or Queretaro airports
(
1.5 hrs. from San Miguel de Allende). Transportation during free time will be up to each traveler. Cabs and Uber are plentiful all over the city.
Suggested Extra Activities
The above extra activities can be booked directly through the locations individual websites. You can also ask the B&B to book any of these activities, providing you give them advance notice, upon your arrival.
Trip Director
The Trip Director will be Brigitte Cowan who has visited San Miguel a half dozen times and has also participated in the city's International Writer's Conference multiple times. Brigitte Cowan, who has traveled throughout Mexico, has lived in Manzanillo, Mexico for over 10 years. She speaks English, Spanish and French and has been involved in the art community in Manzanillo for 10 years. Brigitte started painting in oils 12 years ago after retiring from the corporate world and has taken classes from Robert Hill and Efren Gonzalez in addition to Nancy Bass from BSSS. She has organized Efren's 4-day workshops for the last 9 years in Manzanillo, Mexico and has painted with Efren most of those years.
Art Instructor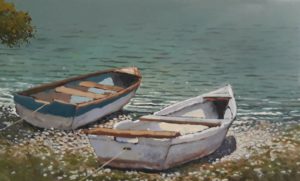 Efren Gonzalez
, from Ajijic, will be conducting a two-day oil painting workshop for all levels of painters. The course includes all supplies i.e. canvases, paint, brushes, liquin, and solvent. Efren will guide students to produce one painting a day. Classes start at 9:00 AM and end around 3:00 pm, followed by a gentle group critic. Efren's work has been exhibited in Galleries in Austin TX, Chicago, IL and in Puerta Vallarta and La Manzanilla, Mexico. Please visit
Efren's website
 to get just a small sampling of his work.
Local Art Supplies
There is an excellent art supply store not far from the Casa de la Noche B&B;
El Pato Margarita Ledesma #19
, Colonia Guadalupe near the organic store/restaurant.
Included in your trip
7 nights lodging at Madame Turca's Casa de la Noche B&B

(

includes gratuity for staff)
7 Breakfasts at Casa de la Noche B&B
Welcome Margarita Party and Orientation
All transfers from and to Leon and Queretaro airports
2-day oil painting workshop including lunch
Art exhibit of paintings by participants and cocktails
Historic walking tour of San Miguel de Allende
Taste of SMA Food Tour/ lunch
San Miguel de Allende Sunday House Tour
Visit to La Fabrica Aurora and Art Gallery Tours
Mask Museum Tour
1 dinner at La Casa del Diezmo for authentic Mexican food
Guided tour of El Charco, San Miguel de Allende's Botanical Garden, and sketching
Final Evening celebration and Pozole Party at the B&B
Gratuities for the entire staff at the B&B for 7 nights
Not included in your trip
Flights
Some meals
Transportation to San Miguel de Allende
Any additional art supplies not provided by Efren Gonzalez
Alcohol with meals
Alcohol at the B&B. There is an honor bar for all beverages
Itinerary:
Please note: This tour includes a moderate amount of walking, at times on cobblestone streets. It is not considered suitable for wheelchair guests. Those with mobility concerns are cautioned to evaluate their personal level of ability and stamina. Hats and flat, comfortable walking shoes are recommended.
---
*B = Breakfast / L = Lunch / D = Dinner /
** Optional
---
Cost of Trip:
Double occupancy: $1,850
Single occupancy: $2,150
*Trip Insurance is required by November 15th, 2018
Payment Schedule:
$300 with initial reservation by August 1, 2018
$800 September 1, 2018
$500 November 1, 2018
Balance due: January 1, 2019:
$250 for double room
$550 for single room
Cancelation Policy:
Up to 30 days after registering: $200

(

$300 deposit less $100 Administrative Fee)
Before November 15, 2018: $750 refunded

(

or 50% less $100 Administrative Fee of what is paid)
After November 15, 2018: BSSS offers no refund of any amount at this time. Travelers will need to contact their trip insurance provider for reimbursement.
Register for this trip by calling the Beverley Street Studio School office today at 540-886-8636!
*
Some of our students who choose to purchase travel insurance for these trips have used Allianz Global Assistance for their coverage. Beverley Street Studio School has begun a new partnership with Allianz Global Assistance to provide travel insurance to BSSS students. If you access their site using the link below, BSSS receives a small credit, so you can help our school as well! This link will allow you to get a free quote on the cost for the plan you choose.  Using this link, you'll also be able to get a refund on the fee if you cancel the coverage within 10 days of purchasing as long as you haven't started your trip or filed a claim.  If you'd like to get your quote please use the link
HERE