Beverley Street Studio School is committed to providing members & students the opportunity to learn and grow, even in non-traditional ways. With the success of our Figure Drawing Open Session, we have now added Still Life Open Session studio time. Both of these offerings are on a strictly drop-in basis, no membership or registration required. You can, however, purchase a Drop-In Card for either (or both!) offerings to get a 15% savings! Read the descriptions below to see which time or offering is most appealing to your practice. We cannot wait to see you in the studios!
FIGURE DRAWING
On Friday's (except from December 15-January 31st) a model is scheduled for a self-guided figure drawing/painting session for members and community artists to attend. This monitored open session is for participants of all levels who like to work from a model using their own media. This is a self-guided practice. (for more information, please click here)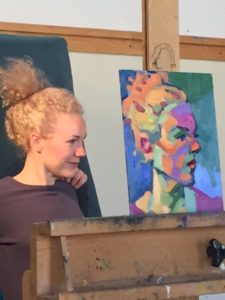 facilitated by: Karen Robertson
Open to Members, Students, and Public: Location: Echols Studio
Friday mornings, 10am-12:30pm
Cost: $10/session, Drop-In Card (valid for 10 Sessions, non-expiring) $85


STILL LIFE STUDIO
On Mondays, starting September 16th, Still Life open session will be available from 1pm-4pm. This monitored open session is also for participants of all levels who are looking to advance their own practice in an encouraging and focused environment. Facilitator Martin Geiger will construct various still life set ups each week for participants to recreate in their own medium. This is a self-guided practice.
Open to Members, Students, and Public:  Location: Echols Studio
Monday afternoons starting September 16, 1pm-4pm
Cost: $10/session, Drop-In Card (valid for 5 Fall Term Sessions) $40
please contact the office at (540) 886 – 8636 to purchase your Drop-In Card